Whenever it gets to the holiday season each year, every retail business in my town starts hawking gift cards. Signs start popping up in windows while the department store around the corner runs a front page ad in the local newspaper—you know the drill.
But this year, one restaurant really caught my eye. It wasn't that their newspaper advert was spectacular or the banner in their restaurant was particularly attractive, it was because they reached me through my phone.
The offer to buy a gift card for my local restaurant was the last thing I expect to see on my Instagram feed. But there it was, complete with a big shiny "Buy Now" button.
It was hard to resist. In fact, I thought the marketing was so good, that I'm gonna spend today's post showing you how you can do the same.
Why sell holiday gift cards for your restaurant?
Did you know that restaurants are the nation's favorite place to purchase gift cards. Almost half of all gift card spending in the US goes to restaurants. Now, that's not a reason in itself, but if so many restaurants are selling gift cards there must be some benefits, right? Heck yes, there are! As a restaurant owner, you can take advantage of these benefits:
Guaranteed spending. The beauty of a gift card is that customers pay for the meal up front. It doesn't matter if they come in and spend the gift card or not, you already have their cash.
Repeat visits. If people don't spend all of the money on their gift card, they are much more likely to come in again and buy a full price meal with a view to a paying for part of it with their remaining balance. It's also a chance for new customers to try your restaurant "for free". Do a good job and they'll come back again and again.
Improved cash flow. The beauty of people paying you for their meal upfront is that it significantly improves your cash flow. This can be a godsend in the run up to the festive period where purse strings might be tight.
How to sell restaurant gift cards on Instagram
To sell restaurant gift cards on Instagram, we need to make use of the platform's "Shop Now" button. To access this, your account must be business, not personal.
Switch to a business Instagram account
Don't worry if you don't have a business Instagram account yet. Switching to a business account is super easy. Find the setting page of your Instagram account and then tap "Switch to Business Profile". Your account will also need to be public. On the following page, you can associate your new business Instagram account with your restaurant's Facebook page. You can then check all of your business' contact information and, once you're happy with everything, tap done. That's it. You're all set to go.
Step 1: Create a way to sell gift cards
If you're looking to sell gift cards for your restaurant on Instagram, I'm hoping you already have a means with which to sell them. If you haven't, there are a couple of ways to do so.
The first would be to add the gift card as an option on your online ordering menu on your restaurant website. Customers pay for the gift card and you deliver it to their home address, just like you deliver food to their address. This will work within your delivery zone.
Another way is to use an online service like Square Gift Cards , ItsOnMe or GiftFly to setup your digital gift card program and take care of everything for you.
Step 2: Create an image
Because it is Instagram, we're going to need an image in order to promote our offering. This isn't as hard or as complicated as you think.
If you don't have a designer to hand, there are plenty of free online platforms that you can use to create an image yourself. We highly recommend Canva or PicMonkey.
The design doesn't have to be complicated, either. A simple design with your restaurant's branding will be enough to catch customers' eyes. The design below is a perfect example.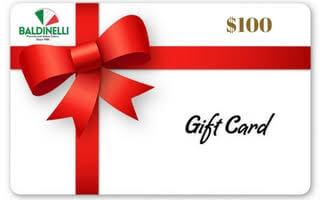 Step 3: Create a new promotion on Instagram
With gift cards to sell and an image to hand, we can now go ahead and create our Instagram promotion. This is pretty simple, just follow the steps below:
Head to your profile section on Instagram
Tap the insights button
Find the promotions section and tap "Create a new Promotion"
Upload your created image (you can email this to your phone and then save it)
Select "Visit your website" when Instagram asks what you want people to do
Choose a budget for your promotion
Tap "Select Button Text"
Tap "Shop Now"
Enter your destination URL. This will either be your website (preferred) or your gift card provider's website
And that's it. You're good to start selling gift cards on Instagram.
We are here to help
If you're struggling to market your business this holiday, our team are here to help. Whether it's Instagram or Facebook, SEO or PPC marketing, we can help you attract crowds now and throughout 2018. Get in touch today for a free consultation.