Multimedia messaging service (or MMS for short) is the sister of short messaging service (SMS). Many companies are familiar with SMS, however MMS is reaching new heights and changing the mobile marketing game. In this article we will give a breakdown of the differences between the two, and share how restaurants can utilize MMS to better engage with your guests.
Why MMS is the better mobile marketing channel?
Research shows that the use of mobile devices grows increasingly every year, and people spend the most time on mobile devices in comparison to desktop/laptops and other connected devices. There are two main categories when it comes to mobile marketing, SMS and MMS. 
SMS and MMS serve their own unique purpose, and is a great way to keep customers in the loop. Understanding the difference between SMS and MMS will help in developing a strategy that best suits your marketing goals and customers. 
A few benefits of SMS messages include higher open rates than emails, and are opened 98% of the time. They are also cost effective, mobile friendly, and allow you to reach a wide demographic. As SMS is limited in text, they need little prep time and are great for fast delivery making it easy to integrate your marketing campaigns. 
MMS messages on the other hand have their own benefits such as its versatility in working across smartphones and feature phones. These messages are traditionally opened within a few minutes of receipts With MMS, users can utilize both outbound and inbound communication, which strengthens engagement making businesses more accessible for customers. Beyond that, MMS messages allow for more eye-catching, creative content that can better grab the attention of consumers in an instant.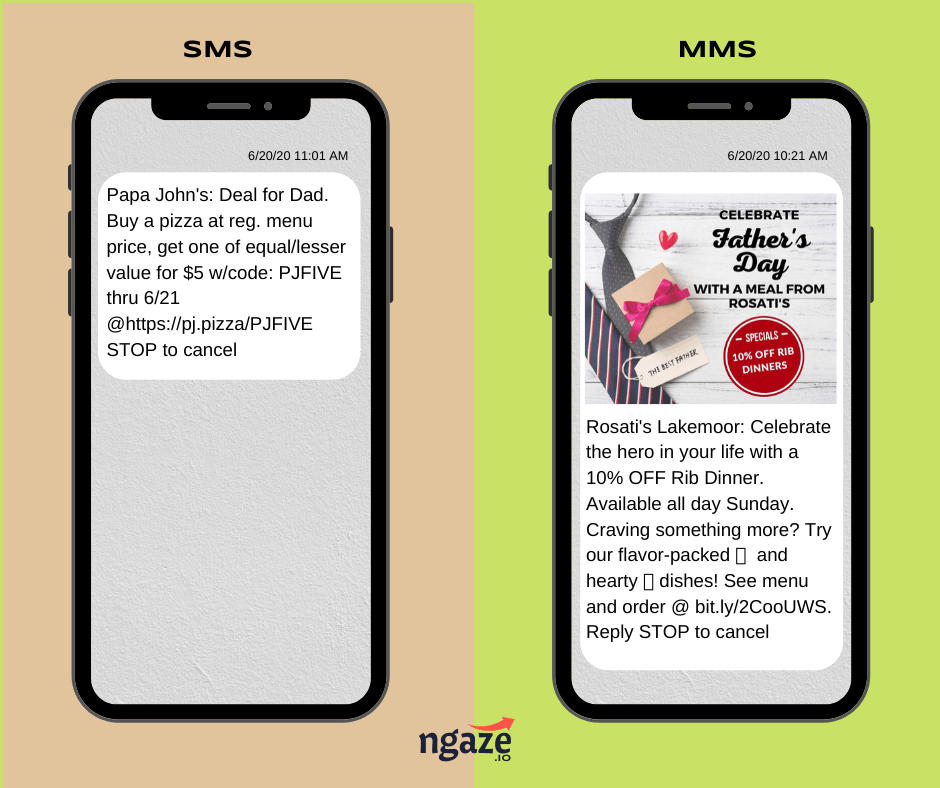 What can you do with MMS marketing?
MMS marketing stands for multimedia message service, is more robust and provides a variety of options in comparison SMS. MMS messages are great for media rich content, and can include a subject line, 500 characters of text, and can include images, video and audio.
Qualities of MMS include:
Visual multimedia experience without having to download an app or create an account to benefit

Scan unique codes and include coupons or offers making it easy to engage with audience

Provide delivery receipts which guarantee important messages are delivered 

More expensive to send
Both MMS and SMS are equally important in bringing the best results for your marketing campaigns!  SMS is great for sharing info, sending reminders and updates. They are most useful for messages containing text that is concise and straight to the point. 
The visual appeal of MMS makes these messages more aesthetically appealing for customers, giving them a higher engagement rate compared to SMS. MMS is great for promoting new products or specials for marketing campaigns. 
Before deciding between SMS and MMS, consider your goals, objectives, and the type of content you intend to create. More questions to keep in mind is budget, total number of messages that need to be sent, as well as the intention and length of the message you plan to send to your customers. 
Summary:
SMS and MMS open the doors to not only reaching a wider range of customers, but can do so in a way that is easily shared and can be opened in an instant. MMS provides a richer technology for restaurants to create eye-catching content and to engage with consumers.
If you want to include MMS or SMS for marketing your restaurant, contact us to learn more about how we can help you!