ABOUT:
Since 1966, Salerno's Restaurant prides itself on quality Italian dishes made with the freshest ingredients. For over 50+ years, our customers enjoy the dining experience in our family-operated restaurants and never go home hungry.
Salerno's Pizza operates multiple locations in the Chicagoland area, at Bolingbrook, Chicago, Oak Park and Lyons.
CHALLENGES:
Here were the top 3 challenges identified by management:
The business was not effective online. It was not digitally engaging and attracting online customers in spite of it's established brand reputation.
The existing Salerno's website and online ordering were not working. They were not driving online sales.
Too much commissions were paid out to Grubhub (over 25%) and other 3rd party ordering.
MARKETING PROJECT:
A digital transformation project was kicked off in March 2016. The goal of the project was to drive online sales and growth through digital engagement.
Click to watch video
---
RESTAURANT MARKETING CASE STUDY
---
The Digital Restaurant team provided strategy, web design, and marketing services. 
Strategy:
The Digital Restaurant team performed a detailed SWOT analysis to understand strengths, identify any weakness and uncover any threats and opportunities for the restaurant locations. The team then developed a plan to implement the "growth marketing program".
GROWTH MARKETING PROGRAM - is our 5-step process, a proven success formula for independent and small-chain restaurants to grow sales. The program has a clear strategy yet agile in implementing new marketing tactics to achieve the desired results.
Web Design:
A restaurant website re-design project was launched. The goal of the web design was to provide an easy user experience for customers looking to order online.
A metric was established by asking the simple question "Would the customer prefer to order pizza on a busy night by calling the phone or order online on the computer, tablet or mobile phone ?"
We would measure success from actual feedback received from customers.
Within 4 weeks, a new website was launched and a new online ordering system set up with complete POS integration at all Salerno's locations. This ensured a smooth operational flow of online orders directly to the kitchen.
Next, the website was SEO optimized and local presence established on various local directories to drive online traffic to the business.
A custom Salerno's mobile app was designed and launched with integrated mobile ordering, rewards program and social integration. An innovative mobile approach (Progressive Web Apps) was implemented to eliminate the barrier of customer mobile app adoption.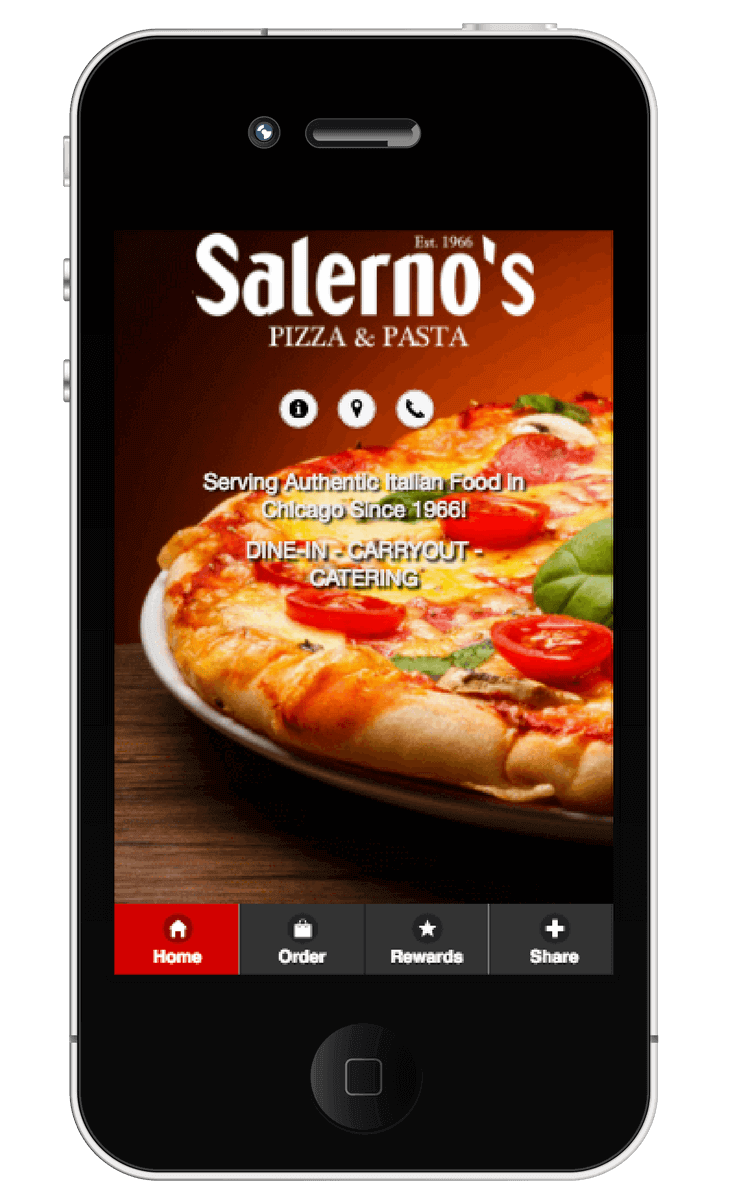 Marketing:
With a solid digital foundation in place, the next step was to develop a 52-marketing calendar to launch campaigns to effectively engage and drive customers to the business.
Multi-channel nurturing and conversion campaigns were launched over email, social, website, and advertising. Customized offers and promotions were created for each location depending on business needs.
The next marketing strategy was to reduce 3rd party ordering channels (GrubHub, Eat24, MyPizza.com, Beyond Menu, Doordash, Slice, etc) and redirect customers to Salerno's own website and mobile app for online ordering.
This was done by first making it easy to order directly from Salerno's website and mobile and providing coupon incentives to order directly. This helped realize savings by eliminating the 10-25% commissions paid to 3rd party online ordering companies, in addition to building the brand and customer loyalty to the business.
The results can be seen from Google search results below. The restaurant website is the top of search results and all 3rd party ordering links have been eliminated, thus preventing the leak of traffic and revenues.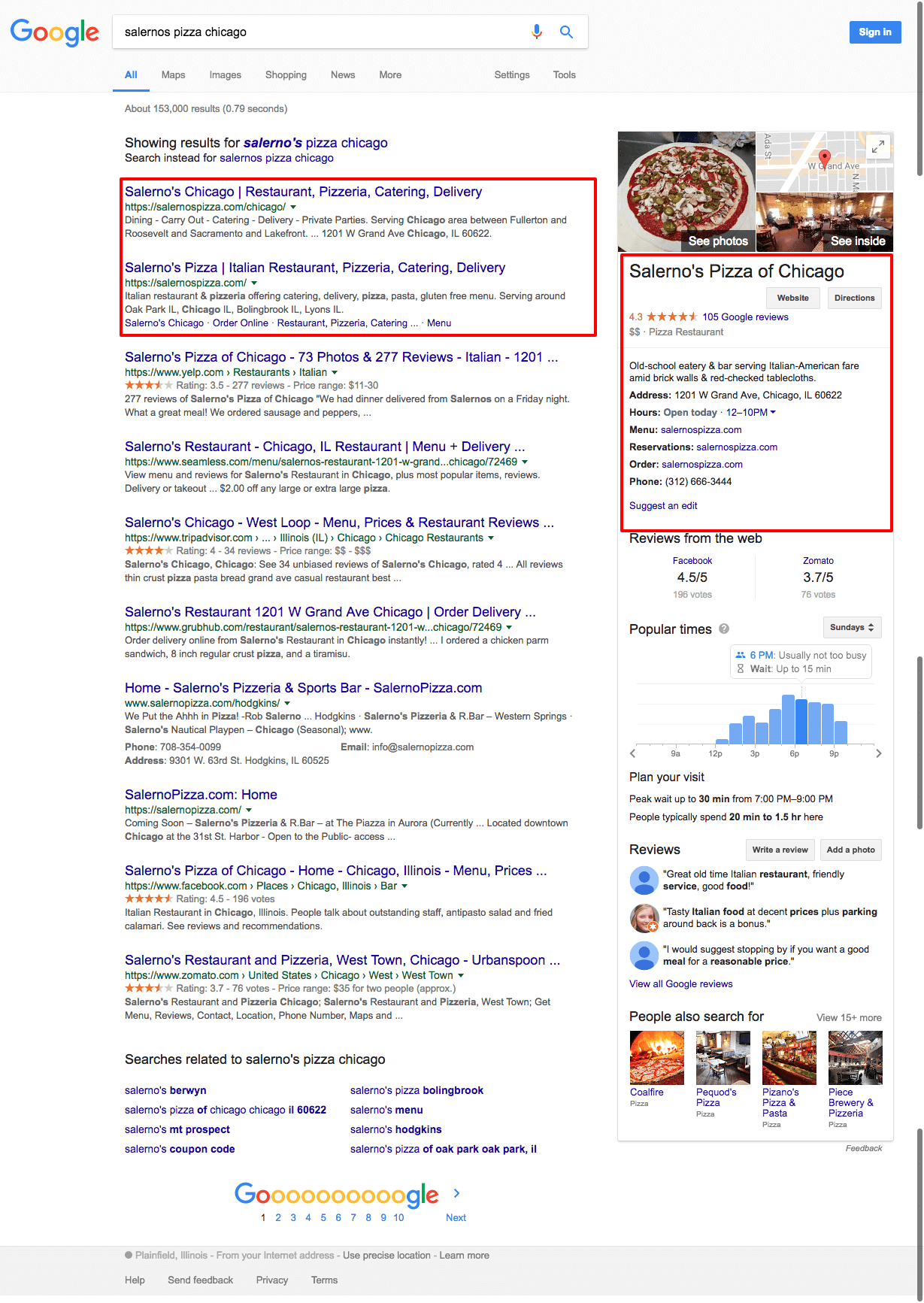 Growing the customer email database organically was a strategy decision made early to be able to cost-effectively re-market in future. As a result of integrating multiple email acquisition channels, the email list has grown over 5 times in 3 months compared to the last 2 years prior to March 2016.
Social media pages for all Salerno's locations were optimized and aligned to the branding strategy. Per the integrated marketing calendar engagement campaigns, we launched through the social, email and website channels.
Benefits Realized:
Here are the results within the first 90 days of the initiative:
- Reduced phone orders during busy times (Fridays & Saturdays) as more customers are ordering online. Ordering online is easier, faster and accurate compared to phone ordering, in addition to no wait times.
- A significant increase in online sales at each of the locations.
- Fewer customer order errors when ordering online compared to phone orders.
- Reduced customer complaints due to reduced order errors and streamlined order taking and order fulfilment.
- Rapid customer email list growth. 100% organic, no need to buy lists.
- Increase in social media engagement.
- Reduction in online order commissions from 3rd party online ordering.
- Real-time customer feedback has helped improve operational efficiency.
- Active reputation management is done now by responding to immediate customer feedback vs responding to negative yelp reviews.
With a combination of digital strategy + web design + marketing, Salerno's is positioned to continue on a growth trajectory with its marketing function supporting the business growth plans. The Digital Restaurant team continues to be the marketing partner in Salerno's success.
Watch video to learn about the results achieved as shared by Emilio Morrone, Marketing Director for Salerno's Pizza.