AI has become a game changer in many industries, including the restaurant industry. With the help of AI and ChatGPT, restaurant owners and operators can gain a competitive edge, boost sales, and improve customer satisfaction.
In this article, we will explore the various ways AI can be used for restaurant marketing in general and specifically on NGAZE AI restaurant marketing software platform, integrated with ChatGPI API.
ABOUT: NGAZE is an AI-powered restaurant marketing software that offers a comprehensive solution for busy restaurant operators to leverage digital marketing and growth marketing strategies. NGAZE's innovative features and capabilities enable restaurant owners to improve online visibility, boost sales, and enhance customer engagement. Learn more about NGAZE and how it can help your restaurant business thrive.

"Ask Bella" is the AI assistant on NGAZE. Bella helps with all kinds of marketing use cases on NGAZE platform. Get a demo on NGAZE to see Bella in action.
How to use ChatGPT for marketing restaurants?
Thanks to the incredible advancements in ChatGPT technology, NGAZE AI offers a multitude of use cases for restaurant marketing. Here are just a few examples of how NGAZE's ChatGPT capabilities can help boost your restaurant's digital marketing and growth strategies:
(1) Social Media Marketing
In today's digital age, having a strong social media presence is essential for any business, including restaurants. With NGAZE's AI capabilities, restaurant owners can easily create, schedule, and publish engaging content for social media platforms. Bella the AI assistant on NGAZE can help create content that resonates with your audience and uses popular hashtags that increase your reach.

(2) Customer Review Management
Responding to customer reviews and feedback is crucial for building a positive reputation for your restaurant. NGAZE's AI can help you craft meaningful responses to reviews by analyzing their sentiment and handling any issues raised. Bella can identify common themes in reviews and offer suggestions for how to address them effectively.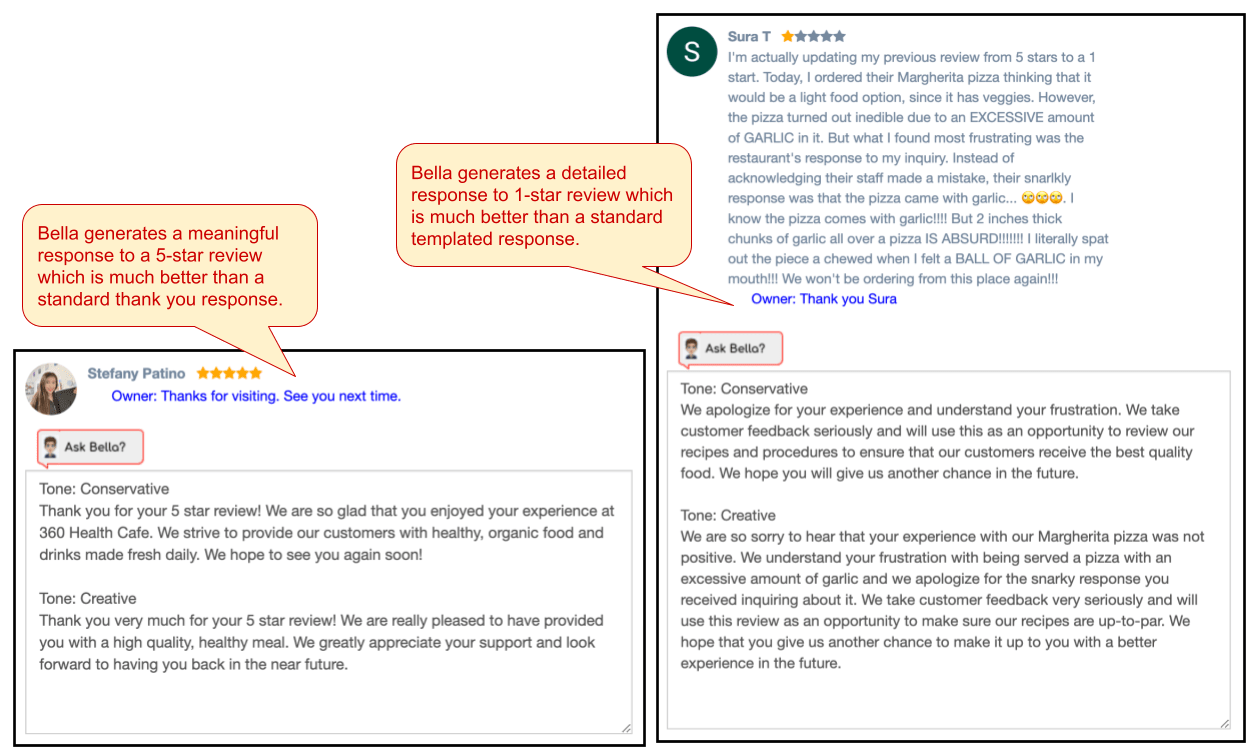 (3) Customer Sentiment Analysis
Understanding your customers' needs and preferences is critical for providing excellent customer service. NGAZE's AI can analyze customer sentiment and feedback across various channels, helping you to identify trends and adjust your marketing strategy accordingly. Bella can provide insights into what your customers like and dislike about your restaurant, enabling you to tailor your menu and marketing efforts accordingly.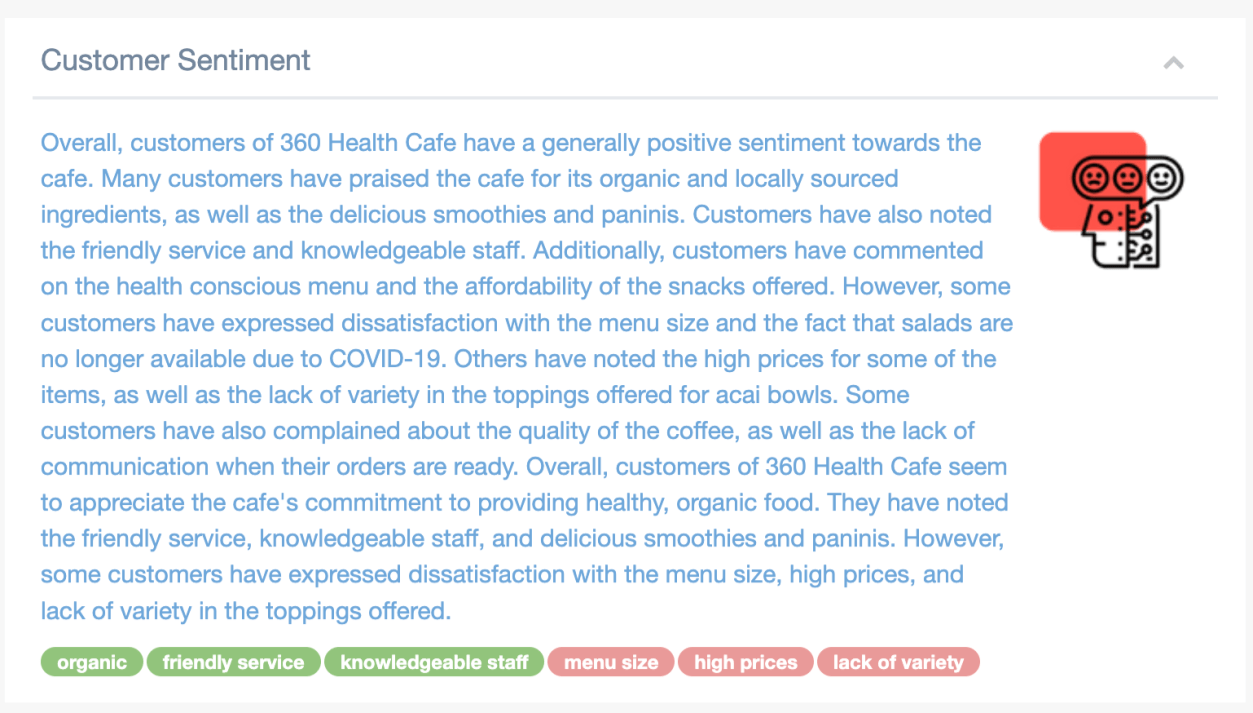 (4) Marketing Automation (Weather-based)
Weather can have a significant impact on customer behavior, particularly when it comes to dining out. NGAZE's AI can analyze real-time weather data and suggest marketing campaigns that are tailored to your customers' needs and preferences. Bella can provide insights into the types of dishes or promotions that are likely to be popular on specific days based on weather data.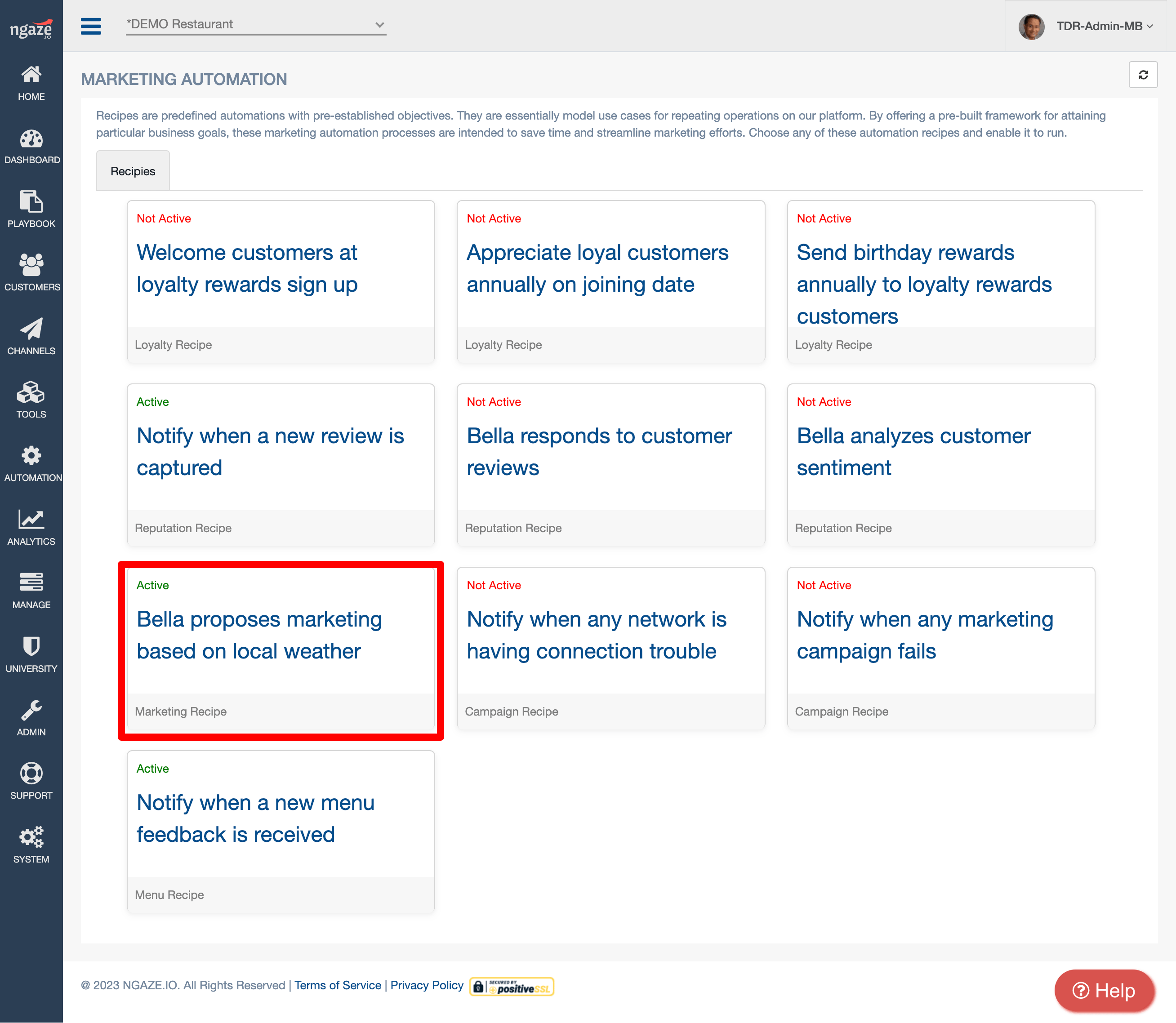 (5) Customized Marketing Playbook:
Every restaurant has unique goals and objectives when it comes to marketing. NGAZE's AI can help you create a customized marketing playbook that is tailored to your specific needs. Bella can suggest local events or promotions that your restaurant can participate in to increase visibility and attract new customers.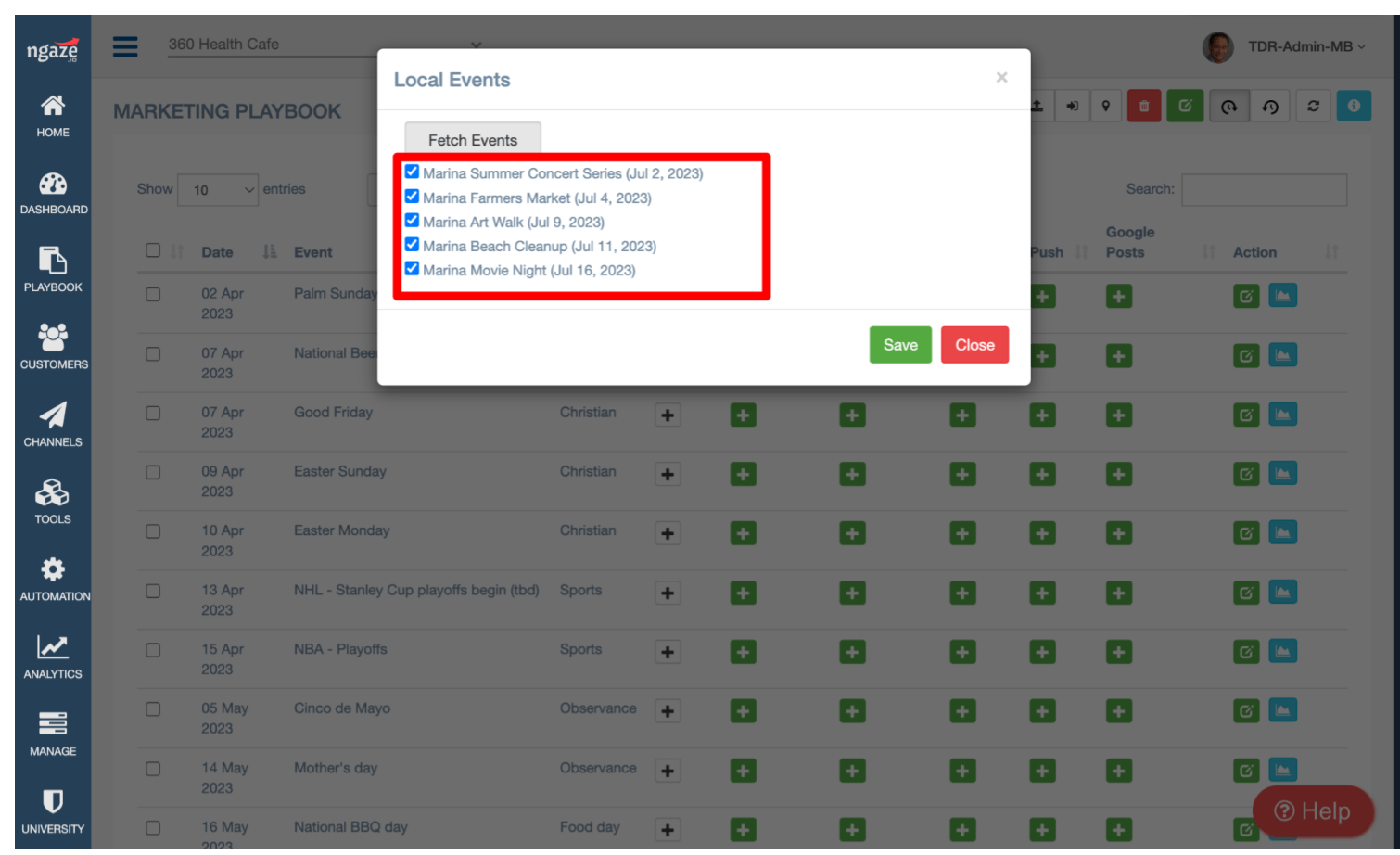 (6) Hashtag Analysis:
Hashtags and keywords are essential for optimizing your social media campaigns and increasing your reach. NGAZE's AI can analyze hashtags and identify trends and insights that can be used to improve your social media strategy. Bella can suggest hashtags that are likely to be popular with your target audience, as well as provide insights into which keywords are driving the most traffic to your website.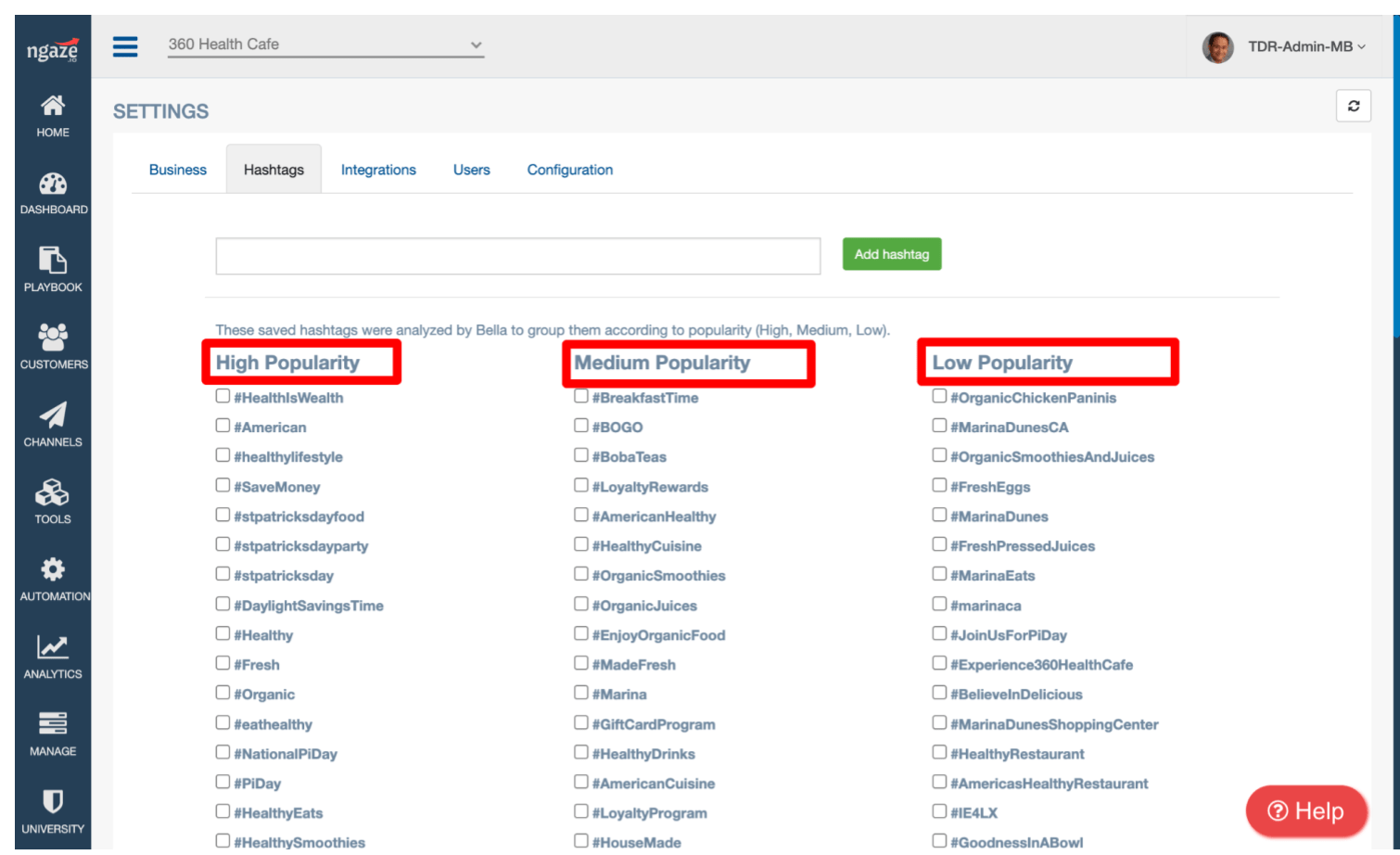 (7) SEO Optimization:
Search engine optimization (SEO) is critical for improving your online visibility and driving more traffic to your website. NGAZE's AI can help you optimize your website for search engines by analyzing keywords, optimizing titles and meta descriptions, and implementing schema markups and structured data. Bella can suggest keyword strategies and provide guidance on how to improve your website's ranking on search engines.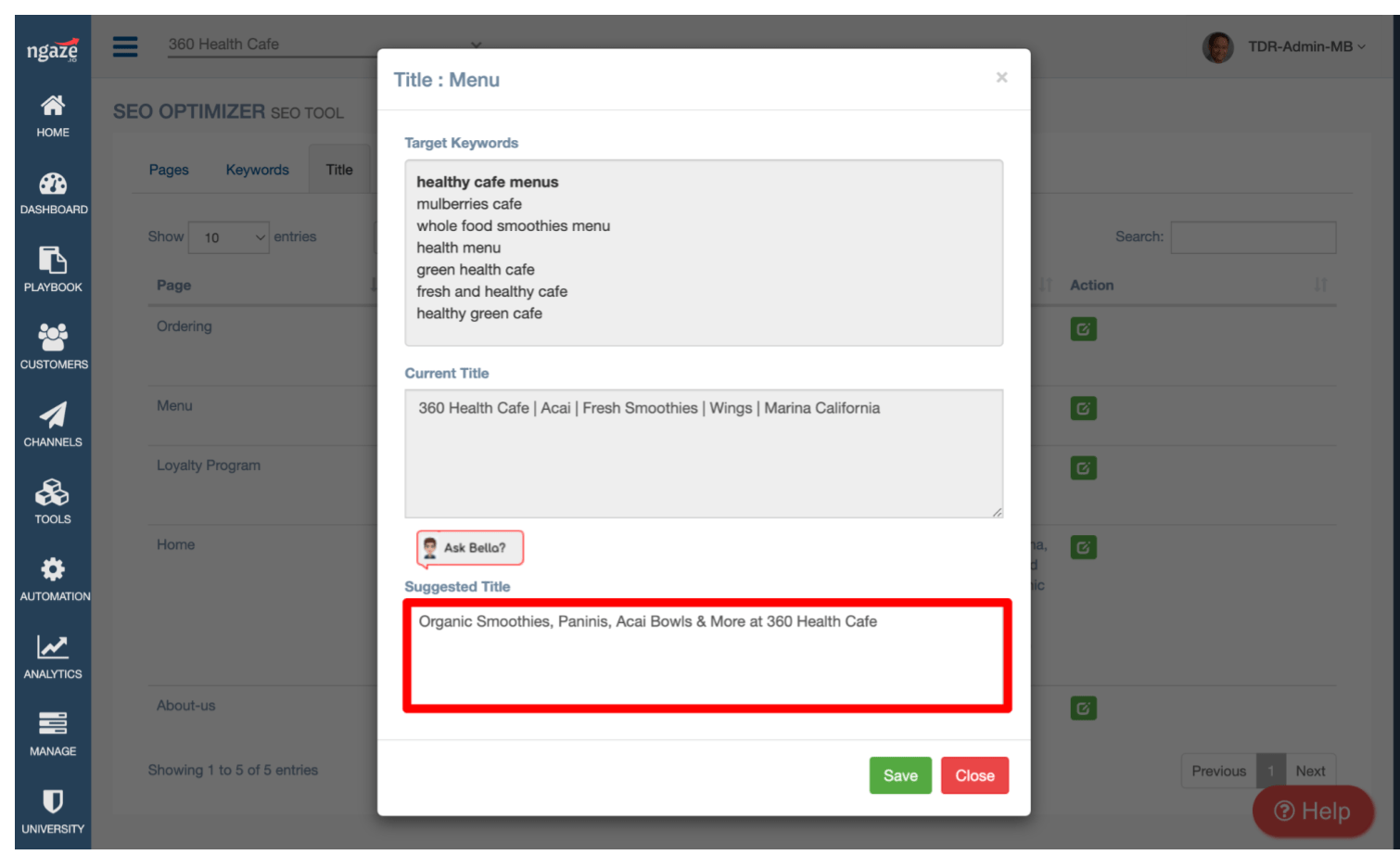 (8) Ideation:
Sometimes, coming up with fresh marketing ideas can be a challenge. NGAZE's AI can help you generate new and creative marketing ideas that will help your restaurant stand out from the competition. Bella can suggest innovative ways to promote your restaurant and attract new customers, such as partnering with local businesses or launching a loyalty program.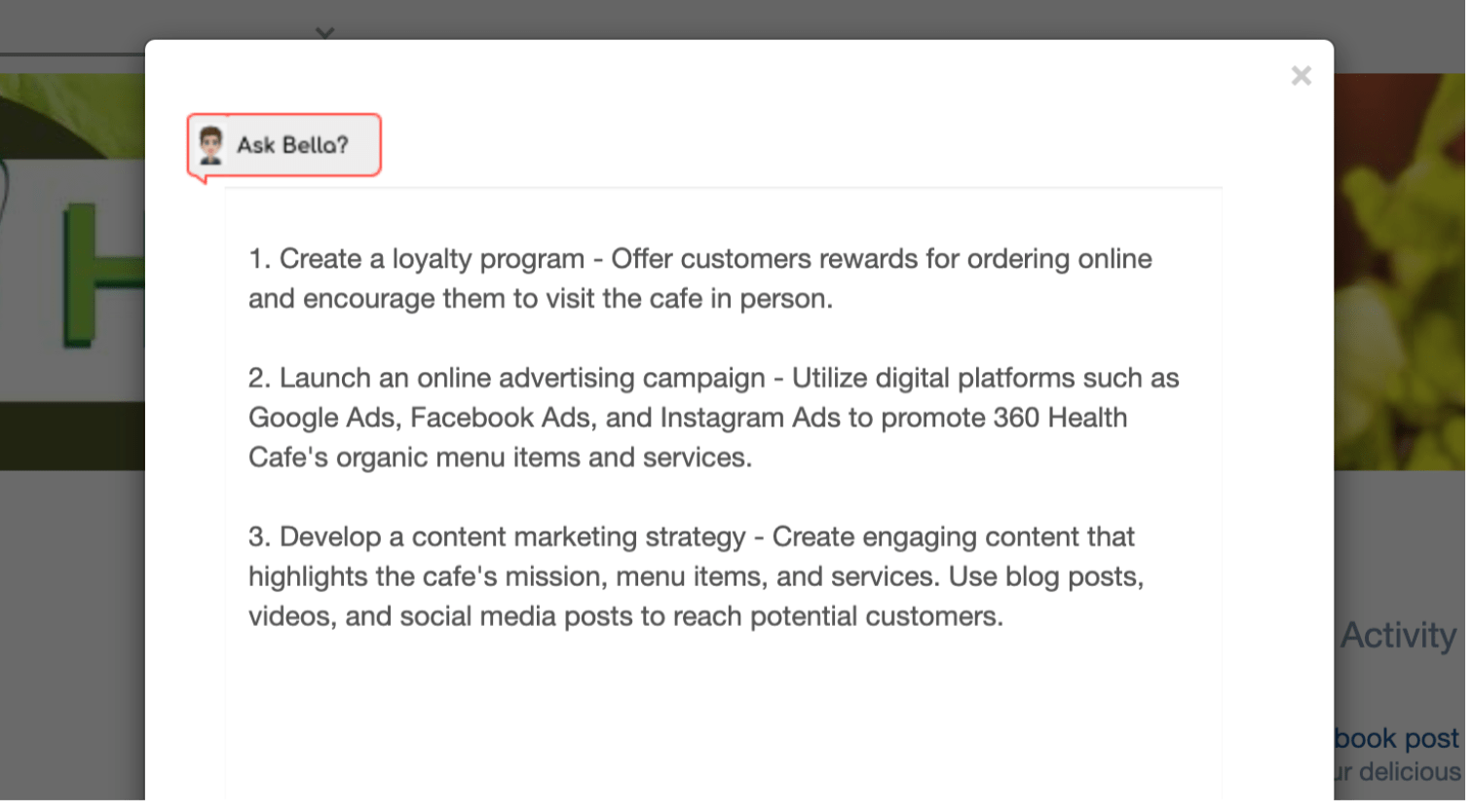 In today's world, where technology is advancing at an unprecedented pace, it has become more important than ever for businesses to keep up with the latest trends and tools in order to remain competitive. NGAZE's AI capabilities provide restaurant owners with a powerful tool to create a comprehensive digital marketing strategy that can help them stand out in an increasingly crowded marketplace.
With NGAZE, restaurant owners can tap into the power of artificial intelligence to analyze customer sentiment, manage customer reviews, automate weather-based marketing campaigns, and much more. By leveraging these capabilities, restaurant owners can optimize their marketing efforts and connect with their customers in new and meaningful ways. With NGAZE's AI, restaurant owners have the power to take their business to the next level and succeed in an ever-changing industry.
SUMMARY
In conclusion, NGAZE's AI capabilities are revolutionizing the way restaurants approach marketing. By leveraging the power of AI, restaurant operators and owners can streamline their marketing efforts and gain a competitive edge in a crowded market.
It's clear that AI is here to stay and will only continue to become more prevalent in the restaurant industry. Those restaurants that adopt AI and the latest digital marketing strategies will be the ones to succeed and thrive. With NGAZE, you can stay ahead of the competition and grow your business with ease.
Don't wait until it's too late to embrace the benefits of AI. Contact us today to discuss how our innovative NGAZE AI restaurant marketing software can help take your business to the next level.
The future of restaurant marketing is here, and it's time to get on board!