Online reviews can make or break restaurants. While you might want to hide your head in the sand and hope that you won't be affected, reviews are going to happen with or without you. Sites like TripAdvisor and Yelp, while offering customers a platform to voice their opinions, also offer restaurants huge marketing opportunities.
Taking control of your accounts also means taking control of the conversation. By giving your restaurant a voice, you can control the narrative and turn unhappy customers into repeat visitors.
In this article, we're going to focus on the three most important online review sites for restaurants: Yelp, TripAdvisor, and Google Maps. Sure, there are dozens of other review sites but nailing these is 90% of the work.
Ready? Then let's get going.
---
Yelp for Restaurants
Yelp is the daddy of restaurant review sites for US and Canada consumers. People are going to review your restaurant on Yelp, fact. But by creating an account or claiming your listing, you can make sure that Yelp works for you, rather than against you.
Claiming your restaurant on Yelp
There's a good chance that your restaurant is already on Yelp. Start by heading over to Yelp's support page. Click on the red button to claim your business.

Enter your restaurant's name and location.

Scroll down until you find your restaurant and click on the red "Claim this Business" button.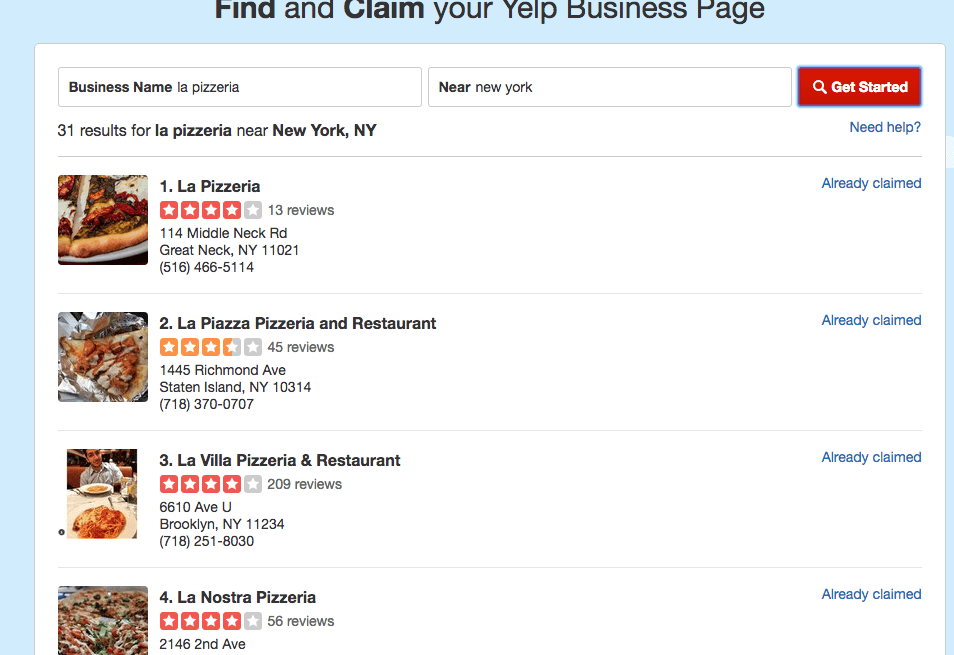 To verify that you actually own the restaurant, Yelp will call you and provide you with a verification code that you will need to enter.

Once you've verified your listing, you'll be able to start editing your restaurant's information.
Listing your restaurant on Yelp
If your business isn't on Yelp, you'll need to create a new listing here.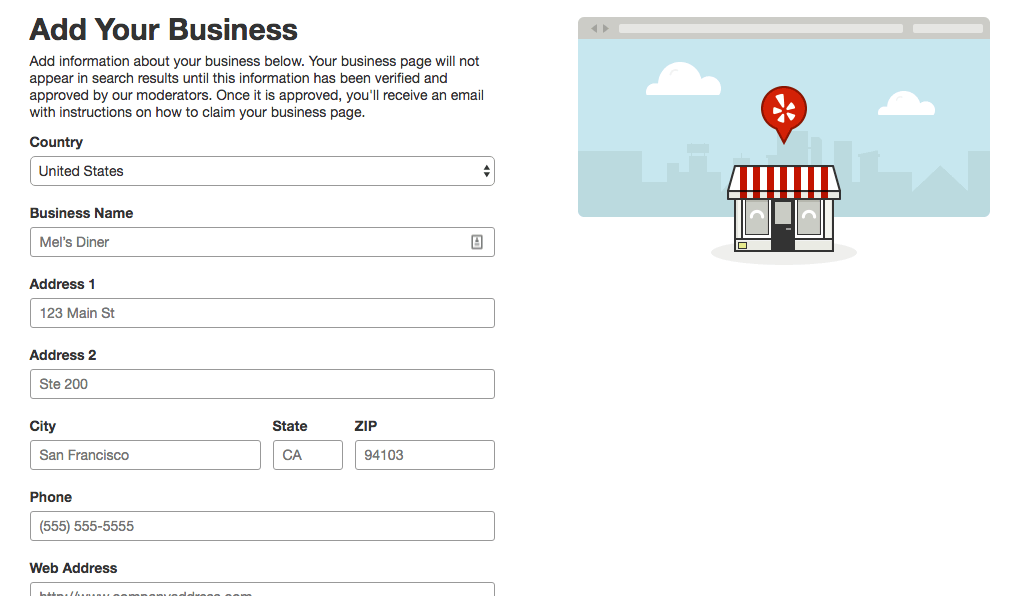 Just like with TripAdvisor, you'll need to fill in all of your restaurant's information. Yelp will also call the phone number you provide to verify your ownership of the restaurant.
---
TripAdvisor for Restaurants
TripAdvisor may not have the same reach as Yelp in the US, but it's a global force. It doesn't just offer you the chance to reach more local customers, it can also help you gain foreign visitors on vacation, too.
Listing your restaurant on TripAdvisor
TripAdvisor makes it very easy to get your restaurant listed. Head on over to their List your Business page to get started.
Once there, select restaurant from the options.

Fill in all of the information on the next page.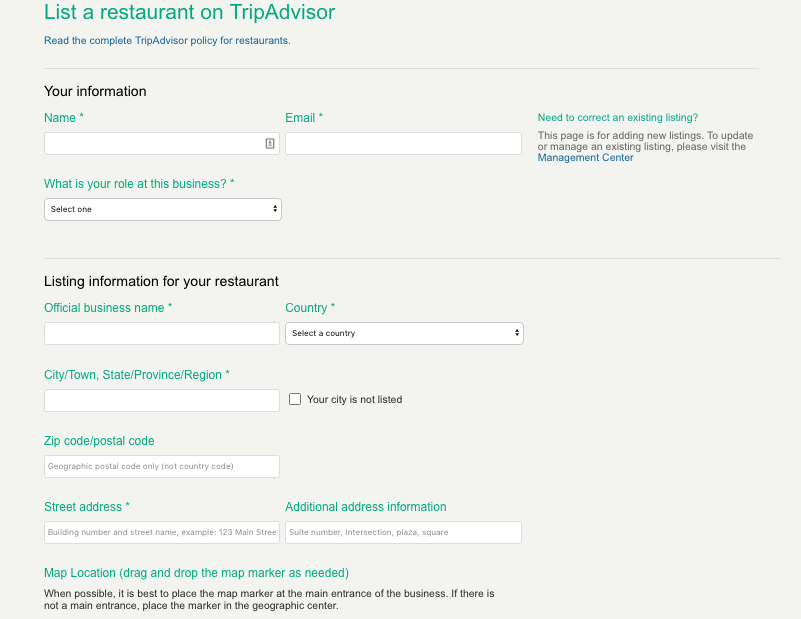 There's a fair bit to fill in but once you've done your TripAdvisor page will be complete. You can then create a custom link for the restaurant so that customers can easily find your page.
Claiming your restaurant on TripAdvisor
There's a good chance your restaurant is already on TripAdvisor. But if you haven't claimed your listing, you have no way of responding to reviews or editing your information.  
Claim your restaurant by searching for it on TripAdvisor.

Click on the orange claim your business button. You'll need to log in or sign up to TripAdvisor at this point.
Once you're in the management center, click on the Manage your TripAdvisor page link to start updating your restaurant's information.
---
Google Maps for restaurants
It may not feel like it, but the reviews people leave on Google Maps can have a huge impact on your cover numbers. Think about it, if people are looking for a particular type of cuisine, say pizza, they're going to Google "Pizzerias near me", right? And which do you think they will try, the pizzeria with 4.5 stars or the pizzeria with 2 stars? It's a no-brainer.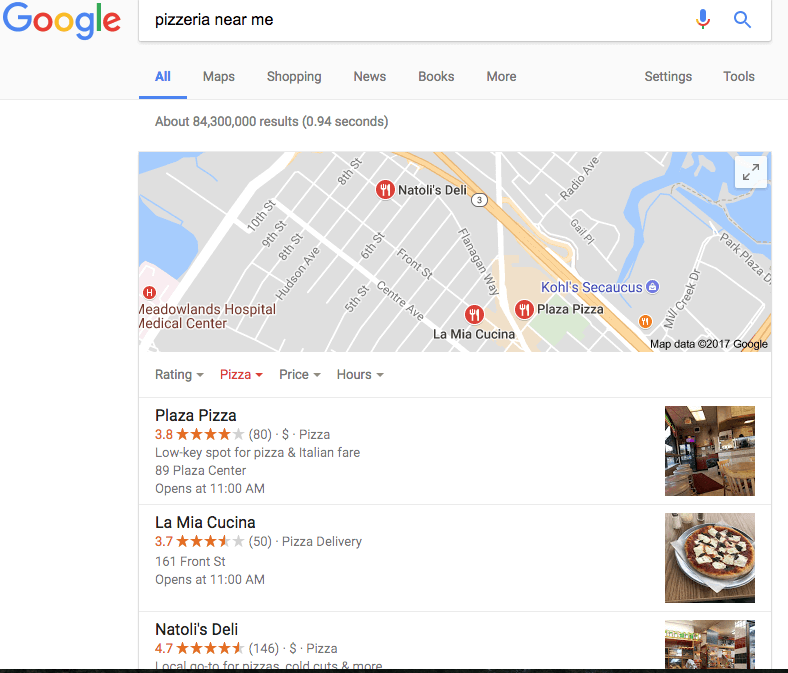 Encouraging Google Maps reviews and responding to them can massively boost your customer numbers. The first step is making sure you have a Google My Business Account.
Claiming your business on Google Maps
If you have read our Google 101 article, you'll already have claimed your business on Google. If not, you'll need to sign up for Google My Business. This is the catch-all platform from which you can manage everything related to your business on Google. Signing up is a great way to boost your local SEO, as well as a way of allowing you to update your restaurant details on Google and, of course, manage reviews.
We've already covered signing up, so check out our article on Google My Business for restaurants here.
How to Manage Google Maps Reviews
Once you have signed up to Google My Business, claimed or created your restaurant, and verified your address, it's pretty easy to start responding to reviews.
Start by signing into the platform and clicking Reviews from the menu
You will now be presented with a list of all the reviews left by customers
Click on a review in order to write a response.
Once you've written a response, click Submit. Users will now be able to see it when they Google your restaurant.
How to get more reviews for your restaurant
Now that you're all set up on TripAdvisor and Yelp, you need your customers to start posting reviews. You can't control what customers write, but you can take steps to encourage them to leave a review in the first place. Here are three strategies that any restaurant can implement immediately.
Just ask

. It's the simplest and easiest way to get views. If you're confident in your food and service (and let's face it, you should be) then just ask your patrons to review you on TripAdvisor and Yelp. Customers understand how important these review sites are to restaurants and should be more than happy to help out.

Make it easy.

The easier you make it for customers to review your restaurant, the more likely they will be to leave a review. Make sure that you link to your TripAdvisor and Yelp pages in multiple places, such as your website and Facebook page. You can also create business cards that include the URLs of your pages and hand them to customers together with the cheque.

Provide an incentive.

It is very important that you don't buy reviews. This breaks the terms and conditions of both TripAdvisor and Yelp and can leave you in hot water. That being said, there is nothing wrong with incentivizing customers to leave a review. Note, you shouldn't say that it has to be a good review. A monthly or weekly raffle for a free meal is a place to start.
How to interact with reviews for your restaurant
When reviews start flooding in, it's important that you interact with them. If possible, respond to every single one. But at the very least respond to the negative reviews. Ideally, you should be responding to the posts yourself. You can outsource review monitoring to an agency. But always make sure that they consult you before responding to a particularly negative review.
When it comes to good reviews, leave a polite, gracious response. Thank the patron for their custom and say that you hope to see them again soon. Knowing that their review has been well received can be a huge incentive for a customer to return to a restaurant.
Knowing how to respond to a negative review isn't so easy, however. It can be difficult to know what to say, particularly if you feel that the customer is either in the wrong or writing a fake review. The last thing you want to do is to lose your cool with a customer in a public (albeit virtual) place. Here's how we recommend responding to a negative review:
Don't be rash. Make sure that you take time to read the review carefully. Read it slowly several times over. Make note of the date of the review, the name of the customer, the problem and the name of any staff involved.
Try to get all the facts. You probably want to rush to defend your restaurant. This is hard to do properly without all the facts, however. Where possible, speak to the staff concerned, get their side of the story and context to the review.
Own the review. Customers can't take umbrage when you own the issue. If you know that your restaurant messed up, own up to it. If you aren't sure that you did anything wrong, let the customer know that you are "sorry they feel that way". Be polite but don't get pushed around. If their review is inaccurate, tell them so but in the politest way possible.
Be the bigger person. Whatever happens, never let things get personal. You are representing the restaurant, not yourself. Resorting to name-calling or inappropriate language is only likely to cause the review to go viral.
You may have been avoiding online reviews up to this point because you're worried about the damage a negative review can do. But even negative reviews present an opportunity to win a customer over.
If you need help developing a tailored online review policy, get in touch today for a free consultation.