AIIn today's digital age, having a strong online presence is crucial for the success of any business, including restaurants. With the vast amount of online platforms and marketing strategies available, it can be overwhelming to determine which ones will be the most effective for your restaurant. That's where a comprehensive restaurant digital marketing audit comes in.
In this article, we'll explore the importance of a digital marketing audit for restaurants, what it entails, and how it can help improve your restaurant's online visibility and ultimately drive more customers through your doors.
Now, more than ever is an imperative time to be wise in where you put your time and resources with your business. As a restaurant operator, you want to make sure that your operations and marketing are all in place, and be aware of the opportunities you can potentially leverage and strengthen your business.
When was the last time you did a thorough evaluation on your online marketing efforts? Before spending any more money on new campaigns or ads, it is so important to assess your overall online presence. A digital marketing audit is a must for every restaurant. 
The question you must ask is "What is a digital marketing audit?" and "Why my restaurant needs a digital marketing audit?"
What is a Digital Marketing Audit?
A digital marketing audit is simply an evaluation of your online marketing presence, efforts, and strategies, making sure that your restaurant marketing strategy is up-to-date and aligned to your business needs.
Similar to a SWOT analysis, a digital marketing audit measures a restaurant's marketing strategy taking a deeper look at strengths, weaknesses, opportunities, and threats. 
They comprise an analysis of your current marketing work, a website audit, and ideas to implement in your marketing strategy. 
Why Does Your Restaurant Need a Digital Marketing Audit?
Marketing audits are an essential tool that can provide valuable insights into a restaurant's marketing strategy, helping to identify areas of strength and opportunities for growth. With the increasing competition in the food industry, it's important for restaurants to stay ahead of the curve and ensure their marketing strategies are effective and efficient. A digital marketing audit can provide a comprehensive evaluation of a restaurant's online presence, including its website, social media channels, email campaigns, and online advertising efforts.
By conducting a audit, restaurants can gain a better understanding of their target audience and how to reach them. This includes analyzing data such as website traffic, engagement rates, and customer demographics to determine which marketing channels are most effective. It can also help restaurants to identify any gaps in their marketing efforts, such as missing opportunities for local SEO or not utilizing social media platforms to their fullest potential.
In addition to identifying areas for improvement, a marketing audit can also provide actionable recommendations and a roadmap for implementing changes. This may include optimizing website content, refining social media strategies, or investing in targeted advertising campaigns. By having a clear plan of action, restaurants can ensure they are making the most of their marketing budget and resources, while also staying ahead of the competition.
Ultimately, a marketing audit is a crucial step in achieving marketing goals and growing a restaurant's business. It provides valuable insights into what is working and what isn't, and can help restaurants make informed decisions about where to invest their time and resources. By staying on top of the latest marketing trends and technologies, restaurants can ensure they are providing their customers with a seamless, engaging experience that will keep them coming back for more.
Digital marketing audits takes your restaurant to the next level. Conducting this digital audit is crucial for every restaurant and gives a clearer insight and analysis of what your business is doing well and what areas need improvement. 
These audits identify growth opportunities for your restaurant and give a basis and is a great first step in achieving marketing goals.
---
What does a digital marketing audit include?
A marketing audit assesses these key marketing areas:
1. Brand positioning and guidelines
2. Competitive analysis (including SEO Targeting and Advertising)
3. Marketing budget analysis (historic and current)
5. Menu strategy 
6. Offers and promotion strategy
7. Multi-channel marketing blueprint
8. Restaurant AI technology 
---
How to Conduct a Marketing Audit?
An experienced digital marketing professional should perform the audit process. We expect them to address the following areas: 
Online brand presence
SEO
Local presence
Social profiles
Website 
Online sales
Brand reputation
Here is a step by step breakdown of how we conduct a marketing audit for our clients.
First, during the initial discovery process, we get an overall sense of the business's online presence (website, Google profile, social profiles, Yelp, etc). 
Next, we give a detailed analysis of the website and this allows other marketing channels to be enabled such as email list growing, push messaging, and social profile links. 
Following that, we analyze the existing channels to see where the audience presence is strong and which channels need to be grown. This also gives an idea as to where efforts in our growth marketing will need to be focused.  
When conducting a digital marketing audit for restaurants it is very important to capture the marketing objectives. This is one of the most important parts of the audit as it plays a part in the recommendations and the multichannel marketing efforts. 
The "Current Marketing" section of an audit looks at what efforts are being conducted right now. This helps evaluate what is working versus what is not, and if those efforts should be continued. 
'Opportunities' section of audit helps plan where efforts need to be focused and how the multichannel campaigns will work in those efforts 
Lastly, we leave our clients with a report that discusses marketing objectives, an overall audit, and recommendations based on a restaurant's current marketing efforts, as well as opportunities and opportunities that stem from it. 
---
Digital Marketing Audit "Report"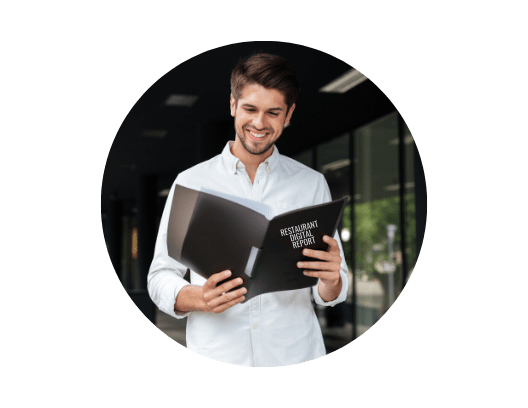 A digital marketing audit report is a customized PDF assessment that helps businesses identify potential growth opportunities. After evaluating, you should share this PDF report with your restaurant's management and marketing team.
Without a doubt, a digital marketing audit report is a must-have marketing report for every restaurant. Especially during times like this, the audit serves as a blueprint for all your marketing activities. This helps restaurant owners understand marketing their business better and give them a solid digital marketing plan.
---
Summary
As you can see that during this time the audit and creating the "report" is a crucial step to improve your online presence and digital marketing. We recommend every restaurant to do this.
In conclusion, a marketing audit is a vital step in identifying potential growth opportunities for your business. By analyzing key areas such as brand positioning, competitive analysis, marketing budget analysis, menu strategy, offers and promotions strategy, multi-channel marketing blueprint, and restaurant AI technology, you can make informed decisions on where to focus your marketing efforts and allocate resources effectively.
Don't miss out on the potential growth opportunities that a digital marketing audit can uncover for your restaurant. Start your audit today and see the results for yourself.
The team at the Digital Restaurant offers marketing services for every restaurant to ensure a solid restaurant marketing strategy and marketing plan. If you are ready to take your restaurant marketing to new heights, request a marketing audit today!