The COVID pandemic has shattered the restaurant industry and operators are trying to pivot their business to survive. It is clear that online ordering, carry out and delivery is crucial for all restaurants, and this is where the digital marketing audit comes in.  
Now, more than ever is an imperative time to be wise in where you put your time and resources with your business. As a restaurant operator, you want to make sure that your operations and marketing are all in place, and be aware of the opportunities you can potentially leverage and strengthen your business.
When was the last time you did a thorough evaluation on your online marketing efforts? Before spending any more money on new campaigns or ads, it is so important to assess your overall online presence. A digital marketing audit is a must for every restaurant. 
The question you must ask is "What is a digital marketing audit?" and "Why my restaurant needs a digital marketing audit?"
What is a Digital Marketing Audit?
A digital marketing audit is simply an evaluation of your online marketing presence, efforts, and strategies, making sure that your restaurant marketing strategy is up-to-date and aligned to your business needs.
Similar to a SWOT analysis, a digital marketing audit measures a restaurant's marketing strategy taking a deeper look at strengths, weaknesses, opportunities, and threats. 
They comprise an analysis of your current marketing work, a website audit, and ideas to implement in your marketing strategy. 
Why Does Your Restaurant Need a Digital Marketing Audit?
Digital marketing audits can take your restaurant to the next level. Conducting this digital audit is crucial for every restaurant and gives a clearer insight and analysis of what your business is doing well and what areas need improvement. 
These audits identify growth opportunities for your restaurant and give a basis and is a great first step in achieving marketing goals. 
---
What does a digital marketing audit include?
A digital marketing audit assesses these key marketing areas:
1. Brand positioning and guidelines
This essentially refers to the way in which a company would like their target consumers to think of their brand, and how it differentiates itself from competitors.
2. Competitive analysis (including SEO Targeting and Advertising)
A competitive analysis determines a brand's digital marketing strengths and weaknesses in comparison to its competitors. 
3. Marketing budget analysis (historic and current)
A marketing budget analysis goes over a company's previous and current budget plans.
This is the focus and outline of your restaurant marketing plan that is in alignment with the goals of your business. This relates to your menu offerings (products), menu item pricing (price), location and competitive positioning (place), and deals, specials, and promotion (promotion). 
5. Menu strategy 
A menu strategy connects the offered products with a company's desired objectives. 
6. Offers and promotion strategy
This is the strategic implementation of a marketing plan to increase a brand's value and demand to its target audience. 
7. Multi-channel marketing blueprint
The blueprint gives you a map of your customer journey and measures the success of each channel individually. 
8. Restaurant technology 
This is a commonly used tool in the restaurant industry, especially as COVID safety regulations have taken place. Examples of these include digital/QR code menus, payment systems, etc. 
---
How to Conduct a Digital Marketing Audit?
This should be conducted by an experienced digital marketing professional. We expect them to address the following areas: 
Online brand presence
SEO
Local presence
Social profiles
Website 
Online sales
Brand reputation
Here is a step by step breakdown of how we conduct a digital marketing audit for our clients.
First, during the initial discovery process, we get an overall sense of the business's online presence (website, Google profile, social profiles, Yelp, etc). 
Next, we give a detailed analysis of the website and this allows other marketing channels to be enabled such as email list growing, push messaging, and social profile links. 
Following that, we analyze the existing channels to see where the audience presence is strong and which channels need to be grown. This also gives an idea as to where efforts in our growth marketing will need to be focused.  
When conducting a digital marketing audit for restaurants it is very important to capture the marketing objectives. This is one of the most important parts of the audit as it plays a part in the recommendations and the multichannel marketing efforts. 
The "Current Marketing" section of an audit looks at what efforts are being conducted right now. This helps evaluate what is working versus what is not, and if those efforts should be continued. 
'Opportunities' section of audit helps plan where efforts need to be focused and how the multichannel campaigns will work in those efforts 
Lastly, we leave our clients with a report that discusses marketing objectives, an overall audit, and recommendations based on a restaurant's current marketing efforts, as well as opportunities and opportunities that stem from it. 
---
Digital Marketing Audit "Report"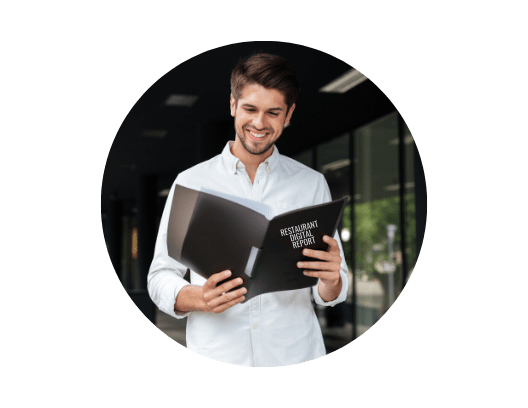 After the evaluation, this pdf report needs to be shared with your restaurant's management and marketing team. A digital marketing audit report is a customized pdf assessment made to help businesses identify potential growth opportunities. 
Without a doubt, a digital marketing audit report is a must-have marketing report for every restaurant. Especially during times like this, the audit serves as a blueprint for all your marketing activities. This helps restaurant owners understand marketing their business better and give them a solid digital marketing plan.
---
Summary
As you can see that during this time the digital marketing audit and creating the "report" is a crucial step to improve your online presence and digital marketing. We recommend every restaurant to do this. 
The team at the Digital Restaurant offers digital marketing audit services for every restaurant to ensure a solid restaurant marketing strategy and marketing plan. If you are ready to take your restaurant marketing to new heights, visit thedigitalrestaurant.com to request a digital marketing audit today!