A whopping 93% of Americans eat pizza every month. To satisfy America's pizza craving, 73,000 pizzerias across the country baked over 38 billion dollars worth of pizza last year.
It is safe to say, pizza pretty much sells itself.
But here is the challenge – If you are the 2 out of every 3 pizzerias in America that are independently owned, you face growing competition from local businesses and large-chains.
It is important to get noticed and be on top of customer's mind when they think of pizza the next time. This is where a well-designed pizza marketing strategy is important for every pizza shop.
Pizza marketing strategy
As a pizzeria restaurant, your marketing strategy needs to include specific plans to boost one or more of the business segments – Dining, Carryout & Delivery and Catering Services.
Each of these 3 business segments serve a particular customer segment.
Dining serving customers looking for a dining experience with good food and excellent customer service.
Carryout & delivery service serving customers looking for quick and convenience, hot and fresh food ready for pickup or delivered to their doorstep.
Catering service serving customers looking for getting food catered for group at their events and special occasions.
Before we think about specific marketing strategies to bring in new and repeat customers, you need to ensure a smooth order taking and fulfillment process in working to meet customer expectations.
For carryout and delivery, ensure all your order taking channels are performing as expected.
Your kitchen staff and front desk need to have great communication and have systems in place to deal with multiple orders.
Your kitchen has to be able to pump out orders quickly maintaining a consistently delicious pizza.
Your POS system needs to be working.
You have to be able to take credit cards, especially with online orders.
Your delivery staff needs to be on call.
Without this marketing will do your pizzeria no good…
Other Important areas are:
Phone ordering: phone staff needs to be well trained to help customers place order on the phone, ensuring the accuracy of the orders and customer satisfaction. You should also strive to reduce phone call times to avoid keeping customers on hold.
Online ordering: Website and mobile apps have a simplified user interface for placing orders. But for this you need to be able to process credit cards.
Walk-in Customer Orders: Customer service training is a must for the staff, as well as a decent waiting or dining area.
Order fulfillment:
As we discussed the kitchen staff and front need to fulfill orders consistently and quickly to avoid keeping people waiting for too long.
Catering business:
Catering is a big part of the pizzeria business, so offering catering options to your customers is a great source of revenue.
Catering menu:
Special options you can offer to catering customers you don't normally offer can boost your catering sales and create a better customer experience.
Catering packages:
Not all events are the same and different customers may have different needs, creating catering packages lets you manage your costs more effectively and gives the customer a package that is more suited to his or her needs.
Pizza Marketing Ideas
Here are 10 marketing ideas to include in your marketing plan.
1. Use quality images
Good quality pictures of your food resonates with customers. Mouth watering images of pizza with melted cheese and perfectly baked crust will arouse the appetite of potential customers.
Take a look at the images below.
(A) This image is taken on a smartphone:
(B) This is a stock photo of pizza:
(C) This image is professionally shot:
Which image do you think evokes a strong desire to have pizza?
The first image (A) does not inspire due to the low quality. The second image (B) does not relate since it is too perfect and probably nothing close to what the actual food looks like. The third image (C) is real, it represents the actual food, looks realistic and inspires.
It is not a good idea to use stock images as people identify the food and potentially be disappointed when the image they see and the food they get do not match.
Hire a good food photographer that knows how to make your food look amazing, it's always a good investment because adding that visual element will increase sales.
Then, reuse these images on your menu, fliers, promotions, website and social media platforms.
2. Offer "pizza by the slice" combo deal
Pizza by the slice is always a good option to have to attract customers who come by themselves. Offering a combo of a slice of pizza and pop in the $4-6 range will attract walk-in customers during lunchtime.
Most walk-in business in pizzerias consists of people looking for pizza by the slice; so do not make them buy a whole pizza.
This is a great idea to implement when you are trying to attract the younger crowd who are looking for a bite, and not to carry a whole pizza home.
To promote the pizza by the slice deal, have a neon sign by the front window that can be seen from the access road. Consider using pizza sign feather flags by the road curbside as well.
3. Create combo package deals
When it comes to getting food for a group, ordering pizza is the easiest option compared to any other kind of food. Because pizza can be shared versus individual orders with mexican, burgers etc. The person ordering the food has the simplest option with ordering pizza by just selecting a package that is adequate for that group.
Create combo package deals for various group sizes in your carry out menu making it really easy for customers to order.
Consider having a combo package deal for game days.
Another good combo deal is targeting families of 4-5 for those weekend home movie nights and other family events.
Combo deals are also great because the customer feels like they are getting a great deal which can turn in to bulk sales.
Creating multiple combo deals can also be used to promote new items on your menu. But be careful with promotions and deals, because if you do it too much and for too long people will start demanding cheaper prices and that could affect the business bottomline.
---
Do you need help with designing your promotions and offers or with your overall marketing strategy? Request Info »
---
4. Create coupon deals
Pizzerias are probably the most effective in the restaurant industry when it comes to coupons and deals promotions. Good or bad, coupons from haircut places and pizzerias have continued to resonate with customers.
Coupons have been a proven way to increase foot traffic to your pizzeria. If you place it in a local magazine, news paper or direct mail campaigns this will cause more customers to go to your place of business than a regular ad without coupons.
When creating coupons deals, they should be for a limited time only and should be ongoing.
But once again use with caution and always lay out the terms of the promotion clearly on the coupon, otherwise some people tend to abuse them.
---
The 12-month marketing calendar has all the coupons and deals for each week of the year. Do you have one for your business? Request Info »
---
5. Give away refrigerator magnets
The best thing about refrigerator magnets is they land on the refrigerator and stay there.
Secondly, when people are hungry or not they visit the refrigerator many times a day and when they think of getting food, there you are… with a handy phone number and/or a website address to order.
6. Customer loyalty rewards program
Create a loyalty rewards program for your most loyal customers. It could be a simple digital punch card program or a mobile loyalty program for collecting points for each visit and offering rewards of free pizza or discounts.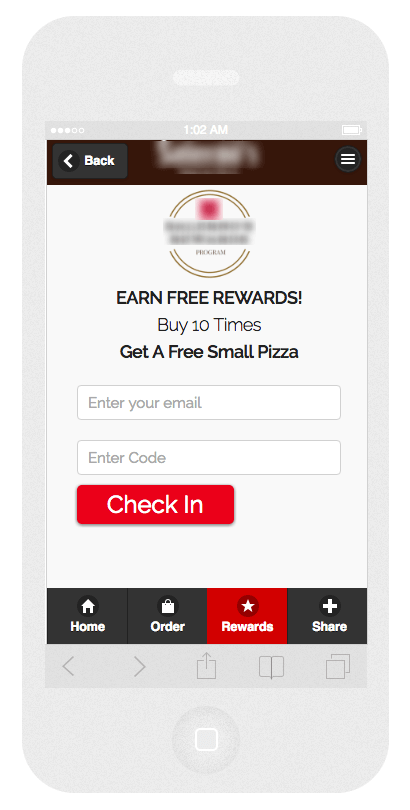 A custom loyalty program branded for the restaurant is much better than marketplace loyalty programs such as Belly or Spring.
With your own customer loyalty program you have full access to customer information that you can leverage for remarketing compared to the 3rd party programs where you have either restricted access to customer information or potential customer leaks to other businesses on marketplace platforms.
---
Need a custom loyalty program for your business? Request Info »
---
7. Start email marketing program
Building an email list of customers is one of the most effective ways for pizza shops to reach their customers effectively with specials and deals.
The key is to nurture the email list using relevant content to ensure a relatively high open rates and click thru rates.
Email is a great way to stay in close touch with your customer base and let them know what's new with you.
---
---
8. Grow mobile engagement
For a pizzeria looking to tap into customers by engaging them on their mobile devices, there are quite a few options.
Text messaging
Mobile app
Push notification
Social media apps
Email
Text messages are opened more often than emails, that's why text messages are a great way to reach you market but you need to be careful not to be too invasive or your efforts will have the opposite effect and put people off.
Creating a mobile app for your business provides your loyal customers a convenient way to order and drive up repeat business.
Mobile apps are also a great way to place your brand on the top spot of your customers mind when they think of pizza, and even when they don't think of pizza as they look at their phone and there you are.
Push notifications are increasing becoming relevant and a better alternative to text messaging.
Social media apps such as facebook, instagram, twitter and email apps also provide effective channels where you can drive mobile engagement specifically.
The key is to have a mobile engagement "strategy" that includes an ideal mix of the various channels.
---
Learn how to have a solid mobile marketing strategy? Request Info »
---
9. Sustained social media conversations
Social media platforms such as Facebook, Twitter, Instagram, Pinterest provide a great way to engage with customers and stay on top of mind. To stay top of mind requires an ongoing sustained conversation or relevant topics.
Have regular posting of specials and deals that customers see. The key is to create a following on these platforms and ensure you reach people every time you post something.
10. Support local fundraisers and sponsorships
Word of mouth marketing is very effective. Give people a reason to recommend your pizza to friends, family and others in the community.
Look for opportunities to sponsor or participate in fundraising programs at your local school, church and sport teams. Many have "Dine and Donate" fundraiser programs, where a certain % of the dinner check is contribution to the fundraiser program. These are great opportunities to get visibility and creating buzz. Donate pizza at such events for free for people to sample your food.
Repeat business is key to pizzeria success
People generally are creatures of habit when it comes to pizza ordering. If customers love the pizza and like the customer service, they are generally repeat customers.
Unlike other kinds of restaurants, where people tend to use phrases like:
"Let's try a new restaurant."
Pizzerias tend to get a loyal customer base once a preference has been established.
When it come to pizza it's common to hear a phrase like:
"Let's order pizza from our regular place"
Most people will find their favorite and stick to that one for a long time…
If you can deliver good quality food consistently and provide decent customer service, you will have a loyal customer base for a very long time.
But the key is to get to your customers with a solid pizza marketing strategy and after that just stay consistent and deliver quality pizza every time.
---
Need help with your marketing strategy? Start Here »
---
Watch your reputation
To attract new business, your reputation is paramount, the pizza business is very local and as such is dependent on a lot of word of mouth.
Remember that people are 2 times more likely to tell others when there was a problem than they are to tell people how great your place is. What is even more amazing is people are 7 times more likely to tell others when they had a problem and was subsequently handled to their satisfaction than they are to tell others about a good experience with no problems. It pays to handle customer issues.
Monitor online review sites, find out what people are saying and respond to their feedback promptly.
If you made a mistake with an order, offer an honest apology, offer a refund and invite them to try you again.
In Summary
Pizza marketing is all about being number one in your customers mind, in addition to good food and service. If you can accomplish that by using marketing ideas that put you on top of mind, you have got the upper hand because the pizza business is one of repeat business.
Be number one in the customer's minds and you will always succeed.
Now your turn:
Go a put these things in practice!
If you found this article helpful please share it with a friend on social media and leave us a comment we would love to hear what you have to say.