Online review websites are one of the best lead generation tools for restaurants. But only if your restaurant has plenty of great reviews.
Get listed as one of the highest-rated restaurants in your area and you can expect a flood of visitors. Suffer from a string of poor reviews and you can forget about having a full house.
Like 'em or hate 'em, restaurant review sites have become a major part of the restaurant industry. It is absolutely crucial for restaurateurs to be encouraging customers to review their restaurant and actively monitoring (and responding to) what customers have to say.
There are dozens more review websites out there. Other blog posts will list ten sites that you should be monitoring but we focus on the top 4 sites every restaurant must monitor and manage.
Why You Need to Manage Reviews For Your Restaurant?
Let's start by looking at some of the latest research on the state of restaurant reviews:
Harvard Business School found that a one-star increase in your Yelp rating can lead to a nine percent increase in revenue.
A report in the Economic Journal found that an increase of half a star on Yelp meant a restaurant was much more likely to be full at peak times.
In a BrightLocal survey, 60% reported reading a review for a restaurant before they went.
Based on the available research, a couple of things should be immediately clear to restaurant owners.
Reviews for your restaurant on Yelp and Google are going to happen whether you like it or not. People are going to read these reviews whether you like it or not. And people are going to make a decision to come to your restaurant based on these reviews whether you like it or not.
This means restaurant owners have a simple choice. They can either hide their heads in the sand and pray that there are no negative reviews. Or they can actively monitor the reviews on these websites and respond to each review, whether good or bad, in order to encourage better reviews and show that they care what their customers think.
Responding to negative reviews in the right way can even persuade some customers to change their mind and upgrade their review. In cases where the customer is actually in the wrong, restaurant owners can point this out to potential customers reading the reviews. Most people will give you the benefit of the doubt, especially if the review sounds petty. But they won't know this unless you respond and give your side of the story.
It's always better to be part of the conversation, even if you think the conversation is unfair at times.
Engaging with customers, encouraging more reviews and pointing out ridiculous reviews aren't the only benefits of actively monitoring your restaurant's reputation on these sites. They also provide a way for you to get feedback on what the customer experience is really like in your restaurant. As a busy manager, it can be hard to notice everything that goes on. You may miss an employee, a dish or a process that has a negative impact on the customer experience.
The reviews are a great way to quickly get an idea of how customers perceive your restaurant. There may be some common complaints. Is it too loud? Is the service too slow? Is one staff member rude?
Restaurant owners can even learn a lot if the reviews are overwhelmingly positive. Are there aspects of your restaurant that customers love? By knowing what those things are, you can make sure you carry on doing what works.
Now you know why managing your restaurant reviews is important, let's look at the review websites you need to monitor.
The 4 Restaurant Review Websites Every Owner Needs to Manage
There may be dozens of review websites out there, but the vast majority of them aren't used by customers to leave reviews. Even more importantly, there are only a handful of sites that come up regularly in Google when you search for "best pizzerias in Chicago" or "top restaurants in New York".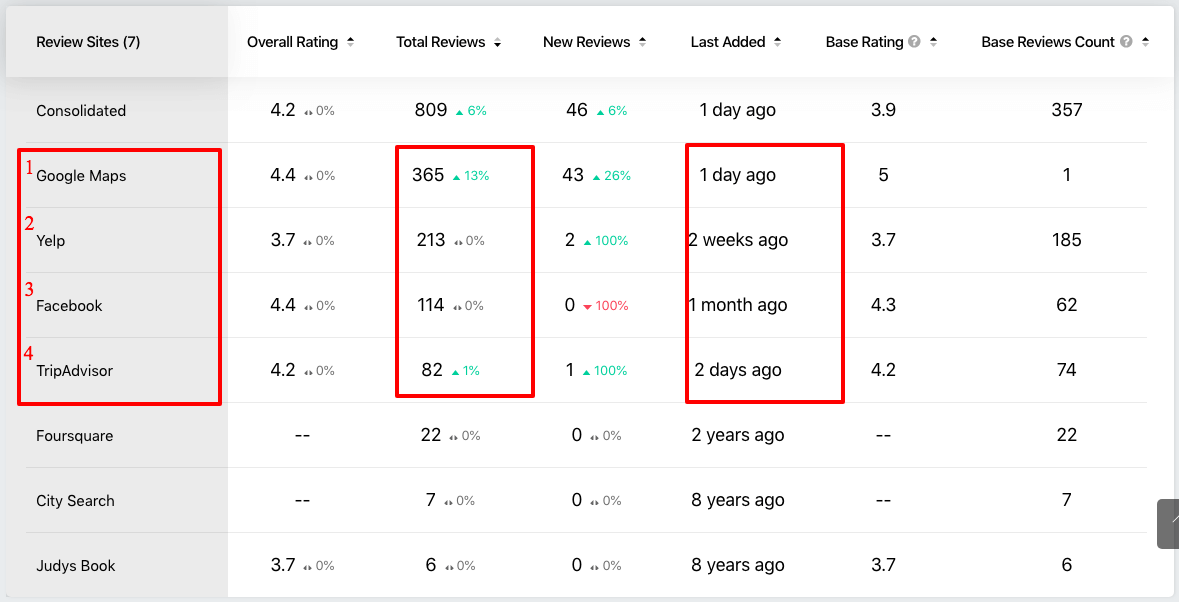 In truth, there are only 4 review websites that restaurant owners and managers need to worry about. This is based on the number of reviews received on reputation management of NGAGE marketing platform.
Review Site #1: GOOGLE MY BUSINESS
Some people will tell you Yelp is the most important review website for restaurants, others will tell you it is Tripadvisor. But we think Google is the most important website for restaurants.
That's because Google is usually the first website people turn to when they are trying to find restaurants near them. When you type in "Pizza restaurants in Chicago", Google will serve up a list of at least three options before giving you links to any other website.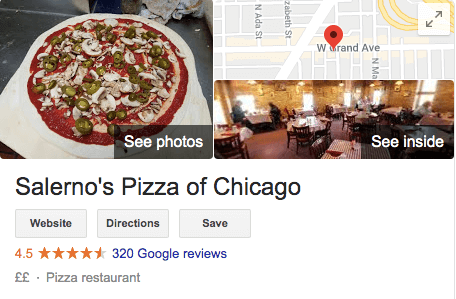 Those restaurants are the first thing searchers see, which means being listed in them can have a huge impact on business.
The number of reviews your restaurant has and the quality of those reviews are two of the major factors Google uses to determine which restaurants appear. That's why we think its important restaurant owners increase their Google reviews before anything else.
How to sign up for Google reviews
Google reviews are managed through your Google My Business account. If you haven't claimed your restaurant's listing, do so by clicking this link and then "start now".
If you already have an account, you can log in to view and reply to the reviews you have already received.
Review Site #2: YELP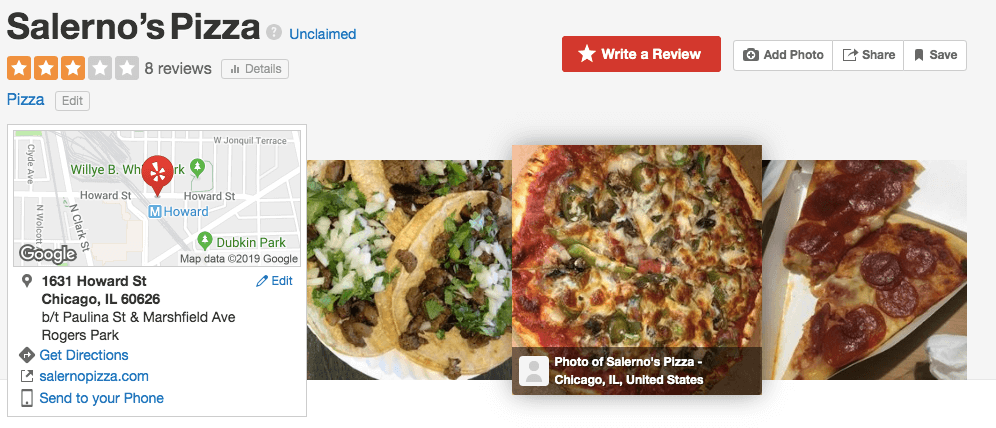 Yelp is the king of restaurant reviews in the U.S. More people go to Yelp to post a review than any other website. If it wasn't for the fact that Google displays its own reviews of restaurants before all others, we'd say this is the top review site for restaurant managers to focus on.
Everyone in the restaurant business has heard horror stories of fake reviews posted by unscrupulous competitors, but thankfully Yelp is taking more and more steps to stop this. Still, unfair reviews can happen.
Think you've received an unfair or fake review, read our Yelp guide to find out how you could possibly delete it.
How to sign up for Yelp reviews
You can find out more about Yelp reviews and claim your listing on their website.
If you already have an account you can log in here to see your latest reviews.
Review Site #3: FACEBOOK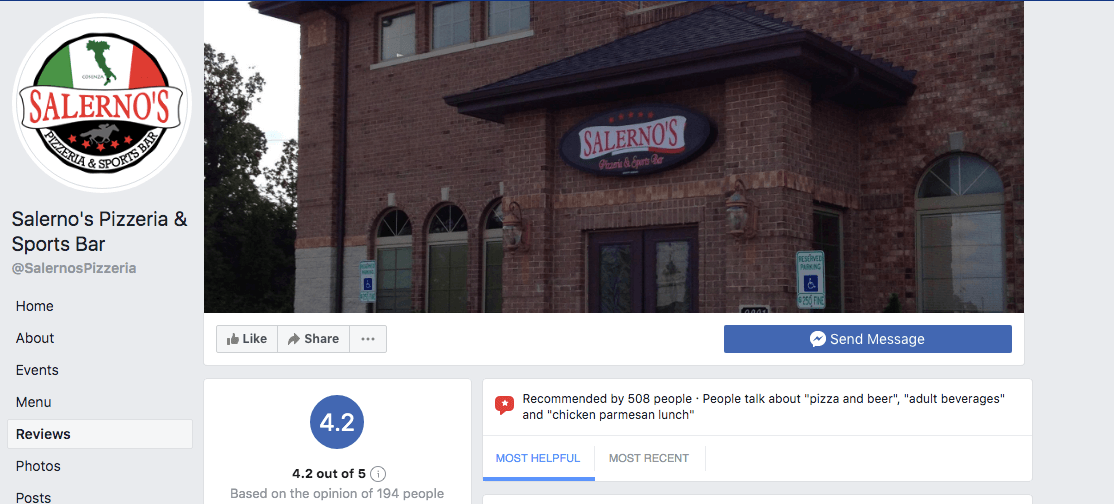 When you think of Facebook, you don't immediately think of their review system. But it's there nonetheless. And while it may not be the first stop for diners looking to find a popular restaurant, Facebook can still play an important role in your restaurant's online reputation. This is especially true, if you are embarking on a social media marketing strategy. Because there's no point trying to draw people to your social page if one of the things that is waiting for them is a 1-star review rating.
Review Site #4: TRIPADVISOR
While it isn't as widely used in the US as Yelp, plenty of tourists will turn to TripAdvisor to find a suitable restaurant. That's not to say locals won't use it. TripAdvisor is actually becoming more commonly used in this country thanks to a marketing push and a better user experience.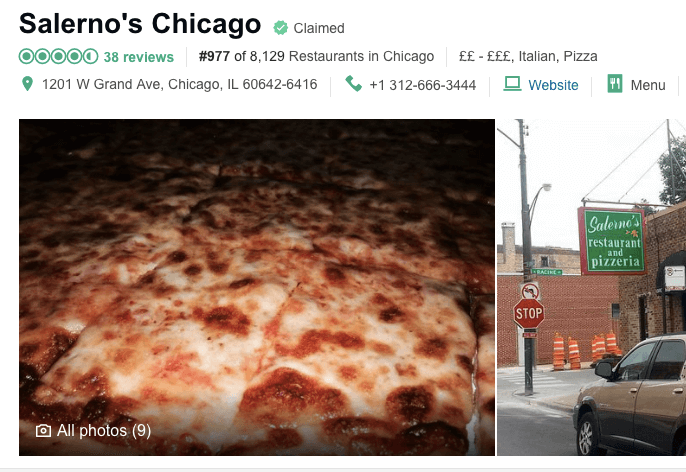 How to sign up for TripAdvisor reviews
If you haven't claimed your restaurant's listing on TripAdvisor, you can do so by clicking here. If you've already claimed your listing, you can log in to view and respond to your latest reviews.
---
Other review platforms restaurants can monitor:
#5 Zomato

Zomato acquired Urbanspoon in 2015 to cement its place in the US. The India-based company already had a solid presence in other countries around the globe and now it needs to be taken seriously by US restaurant owners, too. Like Yelp and TripAdvisor, the site provides users with much more than just reviews, including images, opening times and menus. Users can even call the restaurant from the site.
#5 OpenTable

OpenTable isn't just used by customers to book a table at your restaurant, they can also use it to read reviews of your establishment, too. Available in virtually every major US cities, as well as around the globe, owners need to make sure they are taking advantage of OpenTable's reviews and not just it's online booking program.
#7 The Infatuation

The Infatuation doesn't allow for user-generated reviews, but it is still one of the best and most popular ways for diners to choose their next restaurant. Although the service isn't available in all cities, the super in-depth reports are particularly useful to consumers. If they operate in your city and you've yet to be reviewed, it's worth reaching out to the team.
#8 Zagat

Zagat was one of the first companies ever to start collecting restaurant reviews and it remains one of the most popular today. It was bought by Google in 2011 and now the site's reviews are tightly integrated into the search giant's offering. This makes it a practical choice for restaurant owners who want to show up in Google to target.
#9 Gayot
Gayot (named after a French food critic) may not be to everyone's tastes, nor will it apply to every restaurant. But it is still important for restaurant owners to be aware of this in-depth site. Make sure your restaurant is listed at the very least.
#10 Foursquare
Foursquare is a social networking service available for common smartphones. The app's purpose is to help you discover and share information about businesses and attractions around you. Every time you use it, you share information about the community to your friends.
---
How to Get More Good Restaurant Reviews
Getting more good reviews of your restaurant can be hard. The truth is that most people are only motivated to write a review when they have a bad experience. This often means your accounts on review websites are not a fair reflection of what your restaurant is actually like. The only way to change this is to encourage more customers to leave positive reviews.
The best way to do this is to either ask them or incentivize them. If you tell your customers how much a good review means and what it does for the business, they will be much more likely to go out of their way and leave a review. People really do want to be nice and help each other out.
If that doesn't work or you really want to go all out, you can try to incentivize customers to leave a review. This can be as simple as giving them a business card complete with all of the details they need to leave a review. Or it could be offering them a discount on their next visit or a free drink. Be careful, however, as paying people to write reviews and even some other forms of incentives are against the terms and conditions of sites like Yelp.
If you need help getting started with review sites, make sure to check out our guide to reputation management. We also provide a bespoke service that will see us manage your online reviews and reputation on your behalf. Get in touch today to find out more.
General FAQs
[sc_fs_multi_faq headline-0="h3″ question-0="⭐ How to respond to a negative review on online review sites?" answer-0="Do not argue. Respond professionally and apologize if necessary to diffuse the tension. The goal is not to win an argument but to genuinely show that your business cares for its customers and tries it best to provide the best product and service.
Learn more about how to deal with bad restaurant review effectively." image-0="" headline-1="h3″ question-1="⭐ Which online review sites should I track for my restaurant?" answer-1="At a minimum, the top 5 online platforms every restaurant business should monitor customer reviews are Google, Yelp, Facebook, Tripadvisor and Opentable (if your restaurant takes reservations). Apart from that you can monitor other online review sites that your customers leave reviews actively.
Learn more about the 10 best restaurant review sites for owners to monitor." image-1="" headline-2="h3″ question-2="⭐ Can a business take down a negative online review? " answer-2="If you feel that the review left by a customer on a online review site is not true or does not represent your business, here are your options 1) ask the customer to delete or update the review after resolving any issue that may be involved, 2) report the review to the platform admin providing an explanation why the review is not valid, 3) go the legal route to get a court order.
Learn more about how to remove a negative restaurant reviews." image-2="" headline-3="h3″ question-3="⭐ How do I manage the online reputation of my restaurant?" answer-3="Managing your online reputation for your restaurant is a daily job. Setup your restaurant profile on the top online review sites and respond to customer reviews daily.
Learn more about how to manage your restaurant reputation." image-3="" headline-4="h3″ question-4="⭐ How to improve my restaurant ratings score?" answer-4="Improving your restaurant star ratings score is simple math of getting more 4 and 5-star customer reviews while not getting low 1 or 2 star reviews. It takes four 5-star reviews to effectively counter one 1-star review and keep the overall score to 4-star.
Learn how to boost your restaurant rating from 3-start to 4-stars." image-4="" headline-5="h3″ question-5="⭐ How important is it to have a 5-star rating for my restaurant?" answer-5="To have a perfect 5-star rating is not realistic and not necessary at all. It may actually hurt to have a perfect 5-star rating especially when the number of reviews are small because it gives the impression that all the reviews are fake. It is however important to maintain a high 4-star rating ideally.
Learn how to effectively manage your online reputation." image-5="" headline-6="h3″ question-6="⭐ Should I give an incentive to leave 5-star reviews?" answer-6="It may be a violation of terms of service of some online review sites to provide customer incentives to leave 5-star reviews. It is totally unnecessary to give coupons or buy 5-star reviews. Consider the reviews as a positive mechanism to hear from your customers and improve your product and service.
Learn more about what counts as a good review and why?" image-6="" headline-7="h3″ question-7="⭐ How good are reputation management services?" answer-7="There are many reputation management services that manage and build your reputation for a fee. These services typically use templated responses and deprives the restaurant managers the benefit of active customer feedback and direct engagement with customers.
Learn how to manage your restaurants online reputation." image-7="" headline-8="h3″ question-8="⭐ What are some ways to manage my restaurant's reputation?" answer-8="Managers should be talking to dine-in customers at the end of the meal. Invite customers to provide feedback through loyalty program. Setup automatic email feedback on your online ordering system. Some smart online ordering systems provide a way to encourage customers that provide a positive feedback to further leave a review on online review sites.
Learn how to manage your restaurant online reputation." image-8="" headline-9="h3″ question-9="⭐ How to deal with some customers who want something free from the restaurant?" answer-9="Always answer publicly to negative reviews with calmness and patience, apologize if necessary for any mistakes and offer to make it right next time. Do not encourage anyone to take advantage by demanding free food.
Learn more about how to handle negative online reviews. " image-9="" count="10″ html="true" css_class="your-class"]