Marketing A New Restaurant Effectively in 2022
The pandemic has created a unique situation with businesses reopening after the lockdown disruption and entrepreneurs capitalizing on the opportunity of buying and opening new restaurant locations.
When it comes to how to market a new restaurant or reopening location, many operators make the common mistake of deferring marketing to after restaurant opening. The common thinking is "Let me deal with the million things that need to be done to open the doors; there isn't enough time to think about marketing now."
Deferring marketing is not a good idea. There are missed opportunities!
In the months and weeks leading up to the grand opening, there is really a one-time opportunity to create buzz for your upcoming new restaurant.  The work doesn't end at the opening, however. Below is a suggested timeline for how to promote a new restaurant.
Here are some smart marketing strategies that can make your new restaurant a success.
Market a New Restaurant: What You Can Do to Build an Audience and Create Demand
---
Pre-Opening
In the 6-8 weeks leading up to the opening of your restaurant, you have the opportunity to build a audience and create a "new restaurant coming near you" buzz for your business. Here are some steps you can take to begin the process are:
Registering a domain name: The absolute first step is to register your domain name. Do not search for domain name availability and leave it to register it later. You may find that your domain name has been hijacked and demand for hundreds or thousands of dollars to sell it to you.
Set up a website: In the weeks before your grand opening, the website doesn't need to say much more than the name of your restaurant, and "Coming Soon." You can also put a brief description of the type of food you'll have on the menu. Again, you're trying to provoke some curiosity. It's also a good idea to install an email registration on the website, to begin the process of building an email list of local customers. This may be an opportune time to determine the strategy for your website after you open, and make the decision on a progressive web app.
Set up a Facebook Page: You can set up a Facebook business page for your restaurant to start building an audience. This is a good opportunity to interact with the local community, and begin to find your voice.
---
Grand Opening
On the day the business opens, set up your local presence on Google My Business. The key benefit of this feature from Google is a prominent box on the right side of the search page. There are some key opportunities here for visibility.
Google My Business offers a visual layout, with buttons for directions, your website, and reviews, among other things. Make sure you take the time to fill out all the information for this feature so that you can take advantage of some free visibility.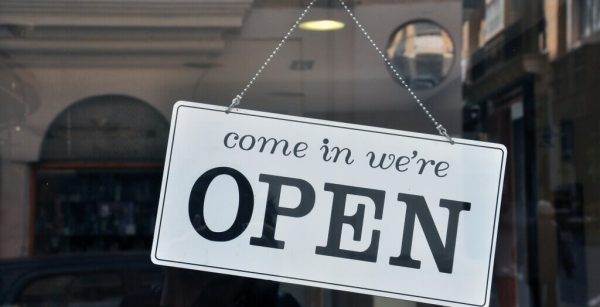 ---
First 90 days after opening
In the first 90 days after you open, focus your attention on increasing your local visibility and growing your business awareness. There are many digital strategies to implement, such as enhancing  Facebook efforts, running ads in conjunction with your growing page. Other methods might be to call your local newspaper, and make your storefront more visible with inflatables or feather signs. Make sure you are working to create awareness with your local audience.
When you promote a new restaurant, it's also important to create a multi-channel marketing plan in the early days. Not only that, but you'll want to refer to it through the course of the year. Your marketing plan should serve as your roadmap and blueprint. It should highlight the opportunities you see, and how you want to capitalize on them. It doesn't have to be overly-complicated. In fact, you can create a quality marketing plan in less than a day.
Conclusion
The most important thing to remember is that marketing can be a lot of work – and there are plenty of resources available for help. If you're slightly off on your timeline, don't sweat it. The important thing is to work hard, and do everything you can to market your new restaurant favorably in the local community.
Are you looking to maximize your ROI from restaurant offers and marketing promotions? Contact us for a call with our team to get a copy of our "Launch Marketing" white paper. 
Common FAQs